MOSCOW, December 18 (Sputnik) — The US dollar continued to rise against the euro and yen Thursday after a decision made by the United States Federal Reserve System Wednesday to keep the federal funds rate near zero for a "considerable time," according to market data.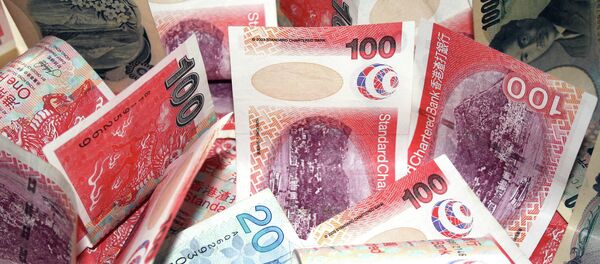 21 November 2014, 10:31 GMT
As of 16:09 GMT the euro exchange rate against the US dollar dropped from $1,2342 to $1,2268. The rate of exchange of the US dollar against the yen grew from 118,65 to 118,68 yen.
"The FOMC [Federal Open Market Committee] plays well into further dollar strength," Irene Cheung, a currency strategist at Australia & New Zealand Banking Group Ltd. in Singapore told Bloomberg.
On Wednesday, after the conclusion of a two day meeting, FOMC, a committee within the Federal Reserve System overseeing the operation of the open market, said in the statement that "the current 0 to 1/4 percent target range for the federal funds rate remains appropriate." The Committee said it will exercise patience in "beginning to normalize the stance of monetary policy."
The FOMC also acknowledged "moderate" growth in economic activity in the United States and the improvement of labor market conditions.