MOSCOW, December 19 (Sputnik) — The Russian military doctrine will remain defensive despite NATO military buildup in eastern Europe, but Russia will make consistent and determined efforts to safeguard its security, President Vladimir Putin said Friday.
"Our military doctrine, which has an absolutely defensive nature, remains unchanged, although we will protect our security consistently and determinedly," Putin said at a meeting with the top military brass in Moscow.
Putin said that the international situation around Russia is not getting any less complicated. "You [all] are aware of the United States building layered ballistic missile defense system as well as of the increased activity of NATO, including in Europe and especially in Eastern Europe," the president said.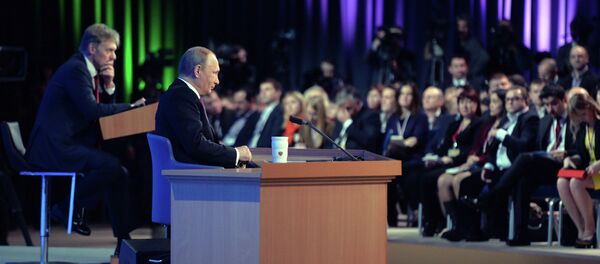 18 December 2014, 11:04 GMT
The president stressed that while continuing to defend its interests and sovereignty Russia "will aspire to strengthen the international stability while calling for equal security for all states and all nations."
Russia has repeatedly urged the international community to address the issue of the expansion of the global US missile defense network. As far as the expansion of the "missile shield" in Europe is concerned, Washington is planning to install an Aegis Ashore Ballistic Missile Defense system in Romania by 2015, and a similar system in Poland by 2018, according to the US Missile Defense Agency.
Under NATO's planned missile defense system, radars and interceptors will be placed in phases in several NATO countries, including Romania, Turkey, Spain and Poland. The defense shield is also bolstered by marine-based systems.
Relations between Russia and NATO have deteriorated in light of the Ukrainian crisis, as the alliance has accused Moscow of meddling in Ukraine's internal affairs, a claim Russia has repeatedly denied.
Following Crimea's reunification with Russia in March, NATO boosted its military presence in Poland and in the former Soviet Baltic republics of Latvia, Lithuania and Estonia. In April, the alliance ceased all practical cooperation with Russia, limiting contact to ambassadorial and higher levels.
Russian Foreign Minister Sergei Lavrov has on several occasions described NATO expansion as a mistake that undermines European stability.
President Putin on Friday ordered to fully equip the land-based component of Russia's nuclear triad with advanced intercontinental ballistic missiles (ICBM) by 2021.
"In mid-term perspective — by 2021 — we need to fully equip land-based strategic nuclear forces with modern weaponry," Putin said at a meeting with senior military commanders in Moscow.
Putin added that the Russian strategic nuclear forces will receive more than 50 ICBM in 2015.
The president also reaffirmed plans to modernize the fleet of Russian strategic bombers and nuclear-powered submarines.
Russia's Strategic Missile Forces (SMF) are expected to be equipped with over 170 Topol-M ICBMs (mobile and silo-based), as well as 30 SS-19 and 108 RS-24 missile defense systems in nine divisions by 2020, according to the Russian Defense Ministry.
On Tuesday, SMF Commander Col.Gen. Sergei Karakayev said that Russia would most likely develop its new Sarmat heavy intercontinental ballistic missile to replace the SS-18 Satan by 2020.
According to Karakaev, the new Sarmat missile is expected to feature advanced countermeasures, such as a complex command-and-control systems, and a high degree of maneuverability, enabling it to penetrate the most sophisticated missile defenses.