MOSCOW, December 20 (Sputnik) — Russian citizen Akhlas Akhlaq, convicted for attempting to assassinate Pakistan's former president Pervez Musharraf, could be executed Sunday morning, a Russian diplomat told Sputnik.
"The Pakistani authorities intend to execute him [Akhlaq]," a representative of the Russian Embassy in Pakistan, Vadim Zaitsev, told Sputnik Sunday. The execution can only be carried out after Akhlaq sees his relatives, he added, citing Akhlaq's attorney.
"We are keeping in touch with the prison, where he [Akhlaq] is being kept, and with the authorities, including Pakistan's foreign and interior ministries," Zaitsev said.
According to the diplomat, Russia is doing everything it can to secure a delay of the execution.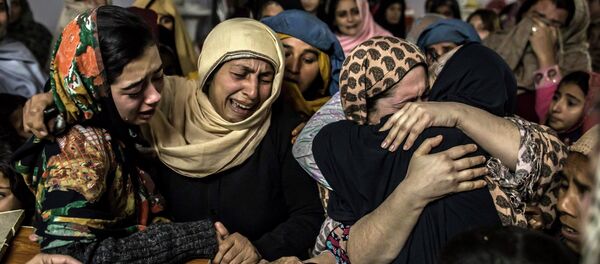 17 December 2014, 12:45 GMT
"We are using all our efforts to prevent this execution. We have sent a relevant note [to the Pakistani authorities] and all measures are being taken so that the Pakistani authorities stop this process," the diplomat explained.
"But we do not exclude that it [the execution] could be carried out this morning," Zaitsev told Sputnik early on Sunday.
"[A police inspector] has informed me that my son will be hanged today in the morning. They asked me to come immediately to Faisalabad to see him for the last time," Akhlaq's father, Akhmad, told Sputnik early Sunday morning.
He said that in three or four hours, he would be in Faisalabad.
"They have not given me a time [when the execution is scheduled for] but they asked me to go to Faisalabad immediately," Akhmad said.
They told me that if you will not reach [Akhlaq in time], even then he would be hanged," he added, stressing that "the Russian Embassy is trying their best, but because the Pakistani authorities are hampering all Russian efforts to save Akhlaq's life, "they are going to hang him today".
Akhlaq was transferred from Rawalpindi's Adila jail to Faisalabad two years ago, "so that no Russian diplomat could come there, as Faisalabad is far away and the [lack of] safety in the city does not permit foreigners to travel there often," Akhlaq's father said. "The conditions are bad in jail; he does not eat and he has become very thin. Now they have decided to hang them all."
Akhlas Akhlaq was born in the city of Volgograd to a Russian mother and a Pakistani father. He grew up in Russia and moved to Pakistan as an adult to help his father with his business. In 2003, he was convicted of an assassination attempt on the then-president of Pakistan, Pervez Musharraf.
Akhlaq has denied all charges brought against him and the Russian Foreign Ministry has contacted the Pakistani authorities several times in an attempt to resolve the case.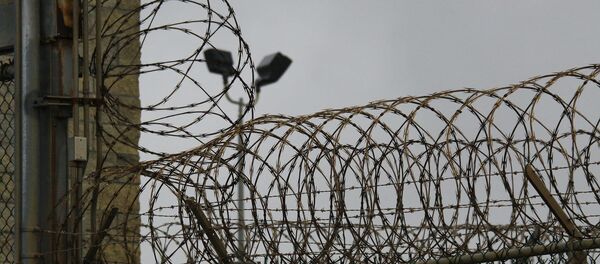 17 December 2014, 20:21 GMT
Akhlaq was tried by a military court, although this is against Pakistani law, since he is a civilian. His trial was closed to the Russian authorities and the press, an official of the Russian embassy in Islamabad told Sputnik.
According to Akhmad, his son was convicted by mistake and Pakistan does not want to admit that the wrong person had been sentenced to death.
"They picked the wrong person," Akhmad told Sputnik, adding that he has evidence proving that the Pakistani authorities had also charged British nationals by mistake.
In the documents related to the charges brought against Akhlaq, "nothing was mentioned that he had attacked or he intended to attack the president of Pakistan", Akhmad emphasized.
Akhmad was not allowed to contact the Russian authorities and was forbidden from trying to obtain any further evidence proving Akhlaq's Russian citizenship and the fact that his son studied at a Russian school.
"They [told] me that if you inform the Russian embassy, we will kill him…Akhlaq has denied all charges brought against him and the Russian Foreign Ministry has contacted the Pakistani authorities several times in an attempt to resolve the case."
"There is no evidence that he wanted to assassinate the president whatsoever. He is also accused of speaking out against the current Pakistani government. But he was in Russia at the time they say he was doing this. And I have proven this. I sent money to him through the foreign ministry at that time," Akhmad Akhlaq, the man's father told RT back in 2007, four years after Akhlas was sentenced to death.
Pervez Musharraf seized power in a coup in 1999, and served as Pakistan's president from 2001 until 2008, when a democratically-elected government came to power. Following his resignation, Musharraf fled the country to live in London.
In 2011, Pakistani authorities issued a warrant for his arrest, accusing Musharraf of failing to provide security for Pakistan's former Prime Minister Benazir Bhutto, who was assassinated in 2007. Musharraf was also charged with unlawfully suspending the constitution and instituting emergency rule in 2007.
Musharraf returned to Pakistan in 2013, intending to take part in the general elections. However, a court issued a ruling banning the former general from participating. In April 2013, Musharraf was put under house arrest after being charged with high treason, according to CNN.
Musharraf has survived several assassination attempts. The most recent took place in Islamabad in April, 2014.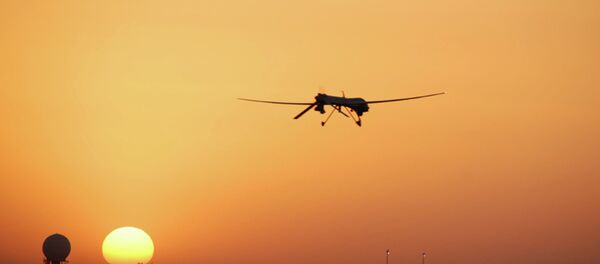 20 December 2014, 11:01 GMT
On December 19, Pakistan executed Arshad Mehmood, who was charged with trying to assassinate Musharraf, according to Reuters.
The United States wanted to buy Akhlas Akhlaq, who was imprisoned in Pakistan on charges of attempting to assassinate the country's former president Pervez Musharraf, but decided not to after Akhlaq said he was a Russian citizen, his father said.
"They [the Pakistani authorities] wanted to sell him [Akhlas] to the Americans," Akhmad Akhlaq said, adding "He said [he was] Russian, so they did not buy him."
According to Akhmad, Americans regularly buy foreign prisoners from Pakistan and that "some are kept in Poland, some were kept in Bulgaria, and some were in Egypt, and some [of the] Pakistanis bought were [kept in] Guantanamo Bay".
Akhlaq's father told Sputnik that some of the prisoners who are purchased by the United States, are killed.
"They interrogate them, some were killed," Akhmad said as he was about to go to Faisalabad to see his son, who could be executed on Sunday.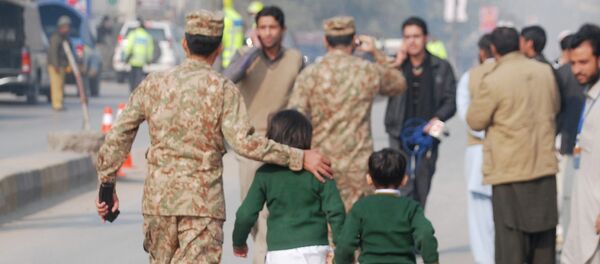 20 December 2014, 06:48 GMT
Akhlaq is one of Pakistan's many prisoners who have come under the threat of being executed following a recent order by Pakistani Prime Minister Nawaz Sharif to lift the death penalty moratorium in the country in an effort to fight terrorism.
Sharif's order has changed the fate of many prisoners. "Our research suggests that many of the individuals who would be first in line for execution are simply not terrorists, and that the law is being abused in a way that perverts justice and fails to keep anyone safe," Maya Foa, head of the human rights group Reprieve says.
Human Rights Watch (HRW), a watchdog, condemned Pakistan's reaction to the terrorist attack on the Peshawar school on its official website on Saturday, and called on the country's government to stop executing those imprisoned for terrorism. The global watchdog stresses that executions of those convicted for terrorism will not help bring the Peshawar school attackers to justice and Islamabad should abstain from "vengeful blood-lust".