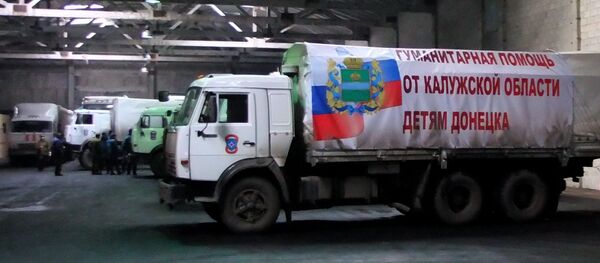 21 December 2014, 17:50 GMT
MOSCOW, December 21 (Sputnik) — More than 90 trucks that have delivered humanitarian aid to Luhansk in eastern Ukraine have arrived at the Russian border, Russian Emergencies Ministry said Sunday.
"More than 90 trucks have returned from Luhansk unloaded and are going through customs on the Russian border," the ministry said.
Earlier in the day it was reported that the trucks delivering humanitarian aid to Donetsk had returned to Russia's Rostov Region, having started unloading earlier than those in Luhansk.
It is the tenth humanitarian convoy that Russia has sent to Ukraine's southeast, as the region is struggling with poor humanitarian conditions after the conflict between the Kiev forces and the independence supports in the country's southeast broke out back in April.
In total, Russia's tenth humanitarian convoy has delivered more than 1,400 tons of humanitarian cargo to Donetsk and Luhansk on Sunday.
On December 18, Russian President Vladimir Putin said that the appropriate way to settle the crisis in Ukraine was to start building a common humanitarian space.