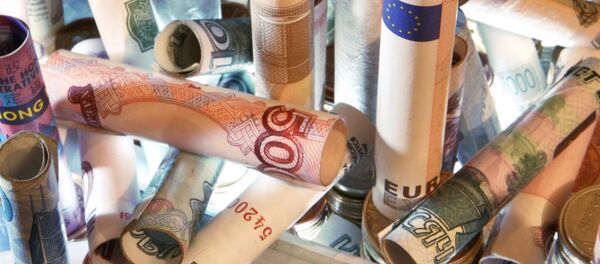 18 December 2014, 09:20 GMT
MOSCOW, December 22 (Sputnik) — Beijing is willing to assist Moscow, but believes that Russia "has the ability and the wisdom to overcome the existing hardship in the economic situation," China's Foreign Minister Wang Yi said, the South China Morning Post reported. Wang did not outline any specific measures, according to the newspaper.
Speaking to reporters during a visit to Thailand over the weekend, Wang told reporters that "if the Russian side needs it, we will provide necessary assistance within our capacity."
Chinese Minister of Commerce Gao Hucheng added that the two countries may increase their non-dollar-denominated trade via the expansion of a currency-swap line agreement signed in October.
The presently agreed to 150 billion yuan ($24 billion US) deal may be widened and expanded upon with the consent of each country. Bloomberg notes that increasing non-dollar denominated trade would help to stabilize the ruble, promoting liquidity support. For its part, China stands to benefit by expanding the yuan's global reach as an alternative reserve currency to the dollar.
Wang's comments may be aimed at shoring up confidence in Russia's currency and its economic outlook as a whole. As noted by Clifford Gaddy, Senior Fellow at the Center on the United States and Europe last week, when it comes to currency, "psychology trumps market fundamentals."
Li Jianmin, a researcher at China's Academy of Social Sciences, suggested that Chinese assistance could come via mechanisms which exist in organizations including BRICS and the Shanghai Cooperation Organization, the China Daily noted.
Jin Canrong, Associated Dean at Renmin University of Beijing's School of International Studies, told Bloomberg that the history of cooperation between the two countries should also be taken into account, with "many Chinese people still [viewing] Russia as the big brother." He noted that "for the sake of national interests, China should deepen cooperation with Russia when such support is in need."
An article in the China Economic Review explained that China has many reasons to support the stabilization of Russia's currency, and that the current decline is already causing problems. This includes the problem of the slowing of exports to Russia of manufactured goods and automobiles. It also includes the potential problem of Russia failing to deliver on promises signed earlier for energy and raw materials contracts, given the ruble's depreciation and a simultaneous drop in oil prices. Finally, the China Economic Review notes that events in Russia could trigger a panic which may spill into other countries, ultimately resulting in the outflow of capital from emerging markets.
At his annual press conference this past Thursday, Russian President Vladimir Putin noted that cooperation between Russia and China is one of the key bases for Russia's economic stabilization and recovery over the next two years. Earlier this year, the two countries signed two multi-year, multibillion dollar gas deals. Minister Gao noted that Chinese Russian trade is expected to reach $100 billion this year, topping last year's figure of $89.2 billion. Earlier this month, Russian Prime Minister Dmitri Medvedev met his Chinese counterpart Li Keqiang in Kazakhstan, where the two countries expanded cooperation in railways, infrastructure, communications, and the development of Russia's Far East.
Russian presidential spokesman noted late last week that Russia was not conducting any talks with China regarding financial aid.