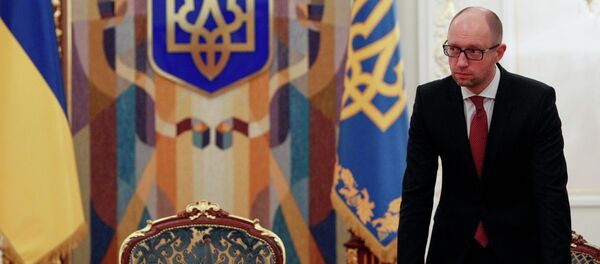 11 December 2014, 09:51 GMT
KIEV, December 22 (Sputnik) – Ukrainian Prime Minister Arseniy Yatsenyuk on Monday gave himself kudos for holding the country's foreign debt at $72 billion for 2014.
"Throughout the year we were able to keep the amount of Ukraine's external debt before its foreign creditors at the level of $72 billion; that is at the same level when we came [into power]. The foreign debt was not increased by a single dollar," Yatsenyuk said during a meeting with European Investment Bank Vice President Laszlo Baranyay.
The Prime Minister stated that the $9 billion package of Macro-Financial Assistance (MFA) has given Ukraine the opportunity to pay the $14 billion debt and expressed his hope that Kiev's Western partners will continue their program of support for the country.
Due to the escalation of conflict in southeastern Ukraine, the country's economy has steadily declined in the midst of a grave humanitarian crisis. In an attempt to achieve an economic recovery, Kiev authorities have repeatedly asked for international loans.
Earlier this year, the European Union undertook two MFA programs of approximately 1.61 billion euros ($2 billion) for Ukraine. In April, the International Monetary Fund made $17 billion available for Ukraine, some of which has already been received by Kiev. Funding was also expected from the World Bank and other international sources.