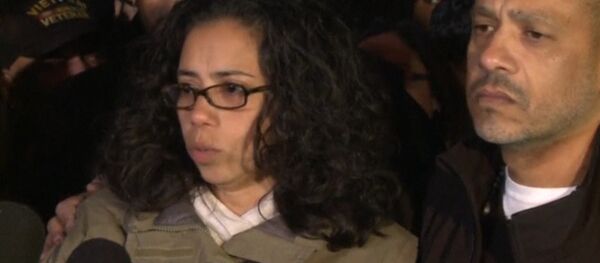 22 December 2014, 16:43 GMT
MOSCOW, December 22 (Sputnik) – the man alleged to have shot dead two NYPD officers before turning his gun on himself had a long criminal record, having been arrested in three states and spent time in local jails, a law enforcement source told the Wall Street Journal on Sunday.
"We're still peeling this thing back," NYPD chief Robert Boyce told the paper, detailing that Ismaaiyl Brinsley had 19 arrests on his rap sheet in Georgia and Ohio, had spent two years in prison on a weapons-possession charge and was known to have tried to commit suicide a year ago.
The WSJ reports that in 2011, in police custody in Georgia, Brinsley replied "yes" to a questionnaire about whether he had ever been a patient in a mental institution or under the care of a psychiatrist or psychologist. Police disclosed that the shooter was estranged from members of his family, and that his mother said she was afraid of him.
According to the New York Times, Brinsley's sister said on Saturday upon being told of the attack that she had not seen her brother for two years. "Oh my goodness, oh my goodness," the paper reported her saying, before relating that she did not remember hearing her brother angry with the police.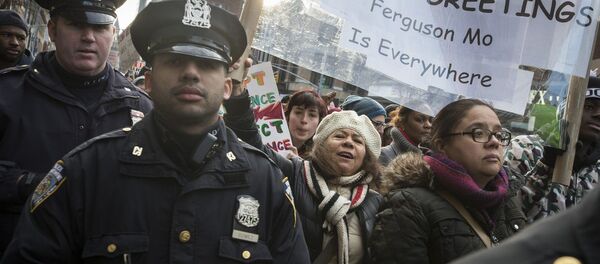 16 December 2014, 15:58 GMT
The police told the NYT that the killer shot his former girlfriend in Maryland, who survived the attack, before travelling to New York. An Instagram account, reported to be used by Brinsley, posted several warnings on the day of the shootings. "They Take 1 Of Ours… Let's Take 2 of Theirs #ShootThePolice #RIPErivGardner #RIPMikeBrown," said a message on Saturday, adding that it might be the final post.
"The tragedy here is that just as the warning was coming in, the murder was occurring," Police Commissioner William J. Bratton said, and added that investigators were examining a series of Instagram posts which showed a "very strong bias against police officers."
On Saturday afternoon in New York Brinsley allegedly shot dead two NYPD officers as they were sitting in their patrol car, before fleeing to a nearby subway station and shooting himself as officers followed in pursuit. He is reported to have told members of the public "look what I'm going to do," before opening fire on the policemen at point-blank range.