MOSCOW, December 22 (Sputnik) — International Information Agency Rossiya Segodnya and the Russian Commission for UNESCO are honouring the memory of the agency's photojournalist Andrei Stenin, killed in eastern Ukraine as he was carrying out editorial assignment, by launching a photography competition in his name.
Stenin went missing on August 5 in eastern Ukraine. On September 3, Director General Dmitry Kiselev Rossiya Segodnya said that Russian investigators confirmed that Stenin had died near Donetsk a month earlier.
"This year we have suffered a terrible loss – the death of our photographer Andrei Stenin. He bravely and exceptionally truthfully showed the war in Ukraine, which cost Andrei his life. We will always remember him," Kiselev said Monday, speaking at the launch of the Andrei Stenin International Press Photo Contest.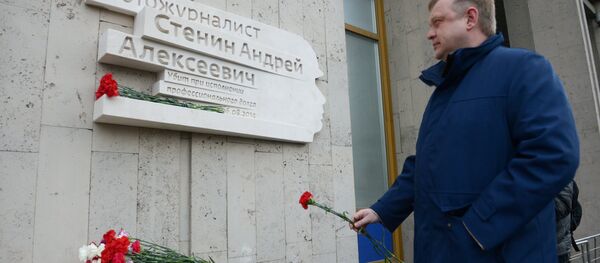 22 December 2014, 09:16 GMT
Professional photographers aged from 18 to 33 are eligible to participate in the contest, which has four categories. A Grand Prize will also be awarded to the best entry chosen by a jury from all the categories.
"There will be four categories: 'Top news', 'Current issues', 'Sports', and 'Everyday life'. Both stand-alone and series of images will be accepted," head of the agency's photo information department Alexander Shtol said at a press conference on Monday.
He noted that first, second and third places will be awarded in each of the categories.
"The winner will receive 50,000 roubles ($905), the runner-up will receive 35,000 roubles, with the third place receiving 25,000 roubles, all after tax. There will also be a Grand Prize, awarded to the journalist who presents the most mature, vivid and interesting work. The Grand Prize is 500,000 roubles," he said.
The contest aims to discover new names in photojournalism, promote photography, draw wider attention to issues in photojournalism, and support young photographers.
10 September 2014, 11:12 GMT
All works submitted for the contest will be assessed by an international jury. Entries will be accepted between February 1, 2015 and April 15, 2015. The winners of the contest will be announced on June 3, 2015 alongside an exhibition of the winners' work.
Andrei Stenin died while travelling in a convoy of at least 10 vehicles carrying civilians and guarded by several members of eastern Ukraine's pro-independence forces, when it came under heavy fire from what was suspected to be Ukrainian military. The car he was in was shot at and torched. The journalist was buried at Troyekurovskoye Cemetery in Moscow, close to three other Russian journalists also killed in Ukraine in 2014.