WASHINGTON, December 22 (Sputnik) — North Korea should admit responsibility for the series of hacks on Sony Pictures Entertainment and compensate the company for its damages, US Department of State spokesperson Marie Harf said during a press briefing on Monday.
"We [the United States] are confident that the North Korean government is responsible for this destructive [Sony] attack," Harf said. "The government of North Korea has a long history of denying responsibility for destructive and provocative actions and if they want to help here they can admit their culpability and compensate Sony for the damages that they caused".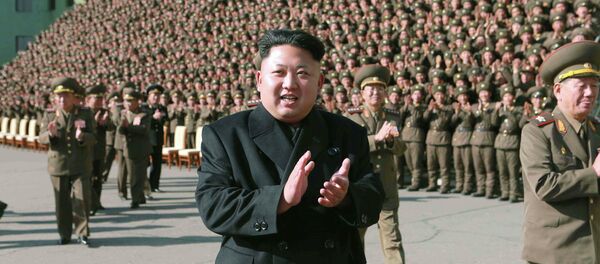 22 December 2014, 10:50 GMT
Last week, Sony cancelled the premiere of a movie "The Interview" about the CIA working with talk-show hosts to kill North Korean leader Kim Jong Un, amid threats of retaliation from an anonymous hacking group if the company showed the film.
The FBI then formally blamed North Korea on Friday of the string of cyber-attacks against Sony that additionally revealed personal information of top executives and actors.
On Saturday various media outlets reported that North Korea had called for a joint investigation with the United States over the accusations from the United States that Pyongyang was the culprit of the cyber-attacks, and warned that America would face serious consequences if they did not participate in the investigation.
"We [The United States] do urge North Korea to exercise restraint to refrain from further threatening actions at this time," Harf said during the briefing.
US media outlets reported on Monday that North Korea decided not to attend a UN Security Council meeting over the country's human rights situation. The United States continues to cast blame on North Korea for the attacks and is considering putting Pyongyang back on its list of state sponsors of terrorism over the alleged cyber-attack incident.