MOSCOW, December 22 (Sputnik) — The United States will not succeed in Latin America if it does not change its policy toward Cuba, which has powerful influence there, Hans Modrow, former prime minister of the German Democratic Republic who has close ties with Cuban leader Raul Castro, told Sputnik Radio on Monday.
"The interests of the United States and Cuba are very different… I have an impression that Cuba's influence on Latin America is so big and so strong that the United States, if it continues the blockade of Cuba and does not maintain diplomatic relations with the island, will gain nothing at all," Modrow said, adding that the United States was interested in gaining a significant influence in Latin America.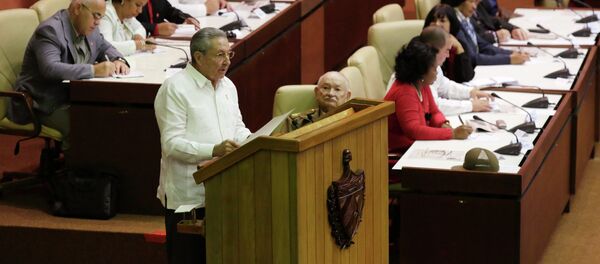 21 December 2014, 11:44 GMT
He noted that how Cuba-US relations will develop further depends on the "first step" that the two countries must take, that of treating one another as equals.
Modrow pointed out the gains that both countries stood to make by restoring ties with each other. Although the United States has not yet ended its economic blockade on Cuba, he noted that Cuba represented another export market for the United States for certain foodstuffs.
US largest food exports to Cuba in 2013 included frozen chicken, soybeans, corn, frozen pork, sausages and food preparations, according to the statistics of the US-Cuba Trade and Economic Council.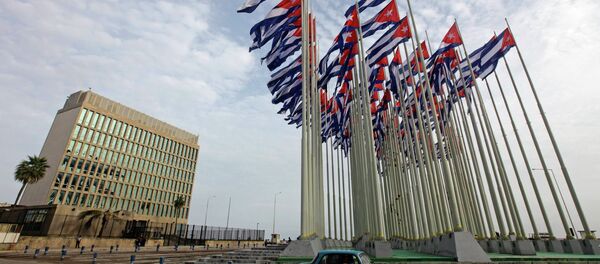 21 December 2014, 07:36 GMT
The former German prime minister also saw potential for improving US-Russian relations, that have become strained in recent times, through mutual cooperation on Cuba. As Russia is a long-standing trading partner of Cuba's, US authorities might realize they have "a chance here to meet with Russia peacefully, as partners" rather than enemies.
Last week, US President Barack Obama announced that the United States would restore diplomatic ties with Cuba. The process should begin with the relaxing of trade and travel restrictions on Cuba, imposed in 1961; and the reopening of a US embassy in Havana.
US Assistant Secretary of State for the Western Hemisphere Roberta Jacobson said that the United States would begin talks to restore diplomatic relations with Cuba in January.