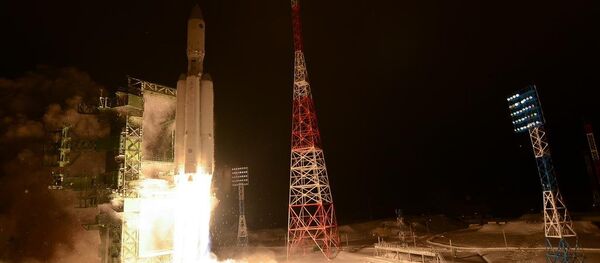 23 December 2014, 08:57 GMT
MOSCOW, December 23 (Sputnik) – Russia's new Angara-class rockets will be used to enhance defense capability of Russia and its security partners by putting military and dual-purpose satellites into orbit, the Russian president said Tuesday.
"This rocket is intended to put payloads measuring up to 24.5 metric tons to low-earth circular orbits," Vladimir Putin said during an extended meeting of the Collective Security Treaty Organization (CSTO).
He added that the rocket's payload can include "missile attack warning systems, as well as [equipment for] reconnaissance, navigation, communication."
Russia's newest heavy Angara-A5 carrier rocket blasted off from the Plesetsk Space Complex in the country's northwestern Arkhangelsk region on Tuesday morning. Putin observed the maiden launch via a live video stream.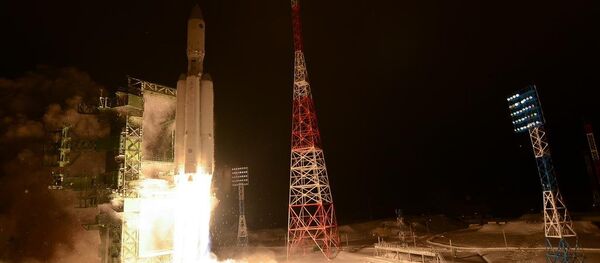 23 December 2014, 08:57 GMT
The president said that this launch is yet another proof that Russia "remains among the world leaders of space exploration."
Russia currently maintains the Soyuz, the only operable rocket system to transport humans into orbit.
The Angara rocket program was launched in 1995. All parts used for the rocket's construction were produced in Russia.
The first test of the Angara-1.2PP rocket took place on July 9, 2014. Late in November, Russia's Aerospace Defense Forces commander Lt. Gen. Alexander Golovko said that Angara rockets' tests will continue until 2020.
Putin: Russian Security Partners to Join Recently Created Defense Control Center
Moscow's partners in the Collective Security Treaty Organization (CSTO), a six-member post-Soviet security bloc roughly analogous to NATO, will join the newly established national defense command and control center in Moscow, the Russian president said Tuesday.
"Today the CSTO secretary general said that all the CSTO countries will join the work of this defense command and control center. I'm sure it will also improve national systems of defense command and control and improve the coordination of our work," Vladimir Putin said at an extended meeting of CSTO.
Speaking at the CSTO session, President Putin also called on the member-states to prepare for "adequate preventive measures" against the spread of Islamic State (IS) in Central Asia.
"Militants from the Islamic State terrorist group are attempting to include some provinces of Afghanistan into its so-called 'Islamic caliphate.' Terrorist groups are attempting to extend their activities to Central Asia," he said.
The president also urged closer cooperation between the bloc and Afghanistan in order to ensure the Central Asian nation's "thriving, prosperous and neutral" development.
According to the Russian Defense Ministry's website, the primary objectives of the newly established command center are to centralize the command and control of the Russian Armed Forces, ensure the daily management of the military, as well as to collect and process information about the current global political situation. The ministry also said that the center's calculating capabilities are three times as powerful as those of the Pentagon.