MOSCOW, December 25 (Sputnik) – Pope Francis prayed for peace in Ukraine and decried the "brutal persecution" of Christians and other religious minorities in Iraq and Syria in his traditional Christmas address, known as the "Urbi et Orbi" (to the city and the world).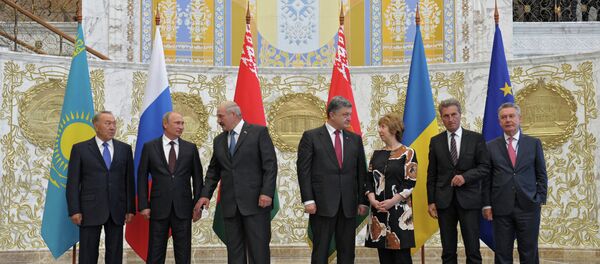 23 December 2014, 12:44 GMT
"May Jesus, Saviour of the world, protect all who suffer in Ukraine, and grant that their beloved land may overcome tensions, conquer hatred and violence, and set out on a new journey of fraternity and reconciliation," the 78-year-old pontiff said.
The pope also asked the Lord "to look upon our brothers and sisters in Iraq and Syria, who for too long now have suffered the effects of ongoing conflict, and who, together with those belonging to other ethnic and religious groups, are suffering a brutal persecution."
"May Christmas bring them hope, as indeed also to the many displaced persons, exiles and refugees, children, adults and elderly, from this region and from the whole world," the pope stated. "May indifference be changed into closeness and rejection into hospitality," he added.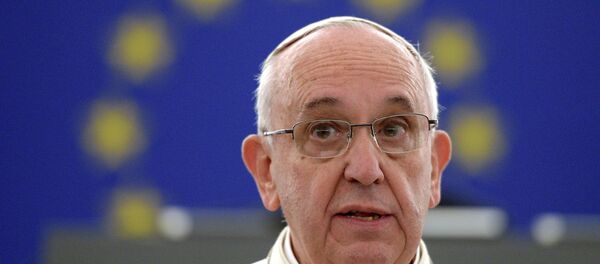 7 December 2014, 07:57 GMT
The pope expressed hope that the Lord would "bestow his peace upon the whole Middle East, … thereby sustaining the efforts of those committed effectively to dialogue between Israelis and Palestinians."
The pontiff also prayed for peaceful resolution of conflicts in Nigeria, Libya, South Sudan, the Central African Republic and the Democratic Republic of the Congo. "I beseech all who have political responsibility to commit themselves through dialogue to overcoming differences and to building a lasting, fraternal coexistence," the pope said in his address.
Pope Francis prayed for those, who were killed by militants from Tehrik-i-Taliban Pakistan in the deadly attack on a school in Pakistan in mid-December, as well as victims of deadly Ebola virus.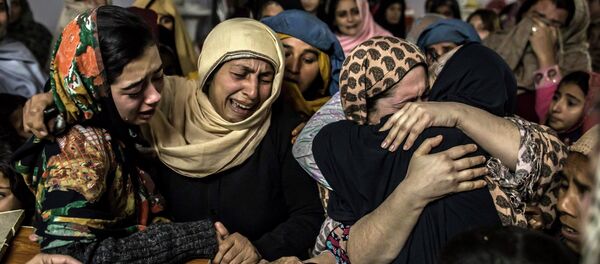 17 December 2014, 04:30 GMT
The pontiff also said his thoughts are with children, who are victims of violence, who are sold and trafficked, or forced to become soldiers. "Truly there are so many tears this Christmas, together with the tears of the Infant Jesus," he added.
"May this divine power, by its meekness, take away the hardness of heart of so many men and women immersed in worldliness and indifference, the globalization of indifference," he pope said.
On Christmas Eve, Pope Francis talked to Christians, who were forced to flee Islamist militants and currently live in refugee camps in Ankawa, Iraq. The phone call was broadcast live on Italian TV.
"You are like Jesus on Christmas night. There was no room for him either, and he had to flee to Egypt later to save himself," Pope Francis said, as quoted by Reuters, adding that he is very close to them in his heart. "I embrace you all and wish for you a holy Christmas," he added.
Later on December 24, Pope Francis held a Christmas Eve Mass for thousands of people gathered in St. Peter's Basilica. The pope urged Christians to embrace the tenderness of God.
"The message that everyone was expecting, that everyone was searching for in the depths of their souls, was none other than the tenderness of God: God who looks upon us with eyes full of love, who accepts our poverty, God who is in love with our smallness."
Pope Francis stressed that "the world needs tenderness today! The patience of God, the closeness of God, the tenderness of God."