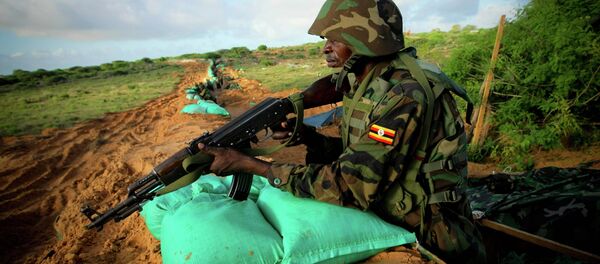 26 December 2014, 10:28 GMT
UNITED NATIONS, December 27(Sputnik) — Following the attack of
al-Shabab
militants on peacekeepers' mission at the airport in Mogadishu,
Somalia
, the UN Security Council members issues a press statement, in which they condemned the Islamic group's attack and urged for justice.
"The members of the UN Security Council strongly condemn the attack on 25th December against the African Union Mission in Somalia (AMISOM) Halane Base Camp, perpetrated by Al Shabaab, which has caused numerous deaths including of three AMISOM soldiers and a civilian contractor," the statement reads.
The members of the Security Council also extended their condolences to the families of the victims, to AMISOM, and to the people and Government of the Federal Republic of Somalia. They deplored Al Shabaab's actions against a base of AMISOM, which is working alongside the Federal Government of Somalia, and the Somali National Army, to protect the Somali people and to assist in the reconstruction and stabilization of Somalia.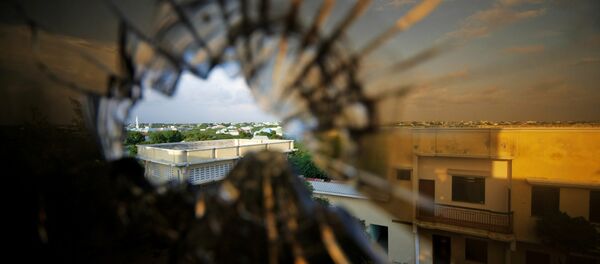 25 December 2014, 14:46 GMT
Calling for accountability, the members of the Security Council in their statement underlined the need to "bring perpetrators, organizers, financiers and sponsors of these reprehensible acts of terrorism to justice and urged all States, in accordance with their obligations under international law and relevant Security Council resolutions, to cooperate actively with the Somali authorities."
Earlier on Friday, UN Secretary Ganeral Ban Ki-moon also condemned the attack and added that the UN will further "support the Government and people of Somalia in their continuing journey toward peace and stability."
On October 29, in Mogadishu, UN Secretary Ganeral Ban Ki-moon said that "Al Shabab's power is declining, but it is not gone. I congratulate the Somali National Army and AMISOM for their advances and the contributions to peace and stability of Somalia. It is critical that they now secure roads to newly recovered areas to enable commercial traffic and humanitarian access."
On Thursday, al-Shabab militant group attacked the base of the African Union Mission in Somalia (AMISOM) in Mogadishu, reportedly targeting the Christmas party there. Three AMISOM soldiers and a civilian contractor were killed, according to the mission's statement released later that day.