MOSCOW, December 27 (Sputnik) — A Twitter hashtag voicing solidarity with the captured Jordanian pilot, Muath al-Kaseasbeh has gone viral in recent days.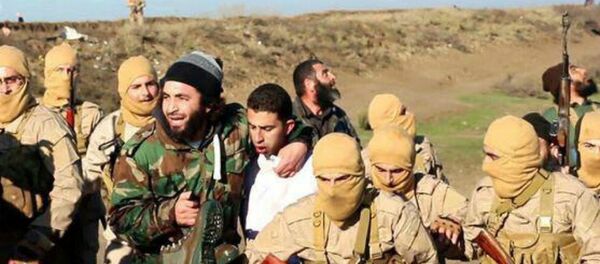 24 December 2014, 13:19 GMT
On Wednesday the Jordanian military confirmed reports that militants near Raqqah had captured 26- year-old Kaseasbeh, after his F-16 jet crashed during an anti-IS air campaign. US Central Command (CENTCOM) and the Jordanian Armed Forces later announced that, contrary to claims by the militant group, evidence indicated that IS did not shoot down the aircraft.
Activists and sympathizers expressed their desire for the release of Kaseasbeh from militants of the Islamic State (IS). Among those speaking out were Jordanian Crown Prince Hussein and Queen Rania, who posted a photo on her Instagram page with the pilot's name in Arabic scripture taking the shape of a warplane colored with the Jordanian flag. The hashtag beneath the plane read #WeAreAllMuath in Arabic.
The pilot's father Safi Yousef al-Kasasbeh appealed for good treatment and reminded the militants that his son was a Muslim as he spoke with reporters in the Jordanian capital Amman on Thursday.
"I hope God will put mercy in their hearts and they will release my son," he said, reports The Independent UK.
A number of photos were released online showing lieutenant being carried by four men and another photo showing him surrounded by about a dozen armed jihadists.
There has been no word on his fate since his capture. He is the first known military member to be captured from the US-led coalition waging an air campaign against the militant group in Iraq and Syria.
In June 2014, the Islamic State jihadist group declared a caliphate in swaths of Iraqi and Syrian territories under its control, prompting the United States to build a 60-nation strong anti-IS coalition directly or indirectly involved in airstrikes targeting the militant group's strongholds.