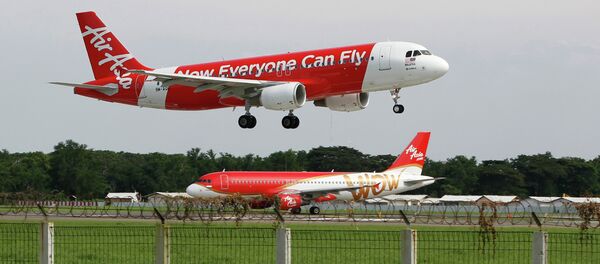 28 December 2014, 07:04 GMT
JAKARTA, December 28 (Sputnik) —
AirAsia
flight QZ 8501 crashed of the coast of Indonesia, with the cause thought to have been severe turbulence, the Indonesian National Search and Rescue Agency said Sunday.
"AirAsia Airbus A320, flight QZ 8501, flying from Surabaya [Indonesia] to Singapore fell into water near Belitung island [Indonesia]," Republika newspaper quoted the agency's representative as saying.
I am touched by the massive show of support especially from my fellow airlines. This is my worse nightmare. But there is no stopping.

— Tony Fernandes (@tonyfernandes) 28 декабря 2014
However, the Indonesian Ministry of Transportation is not ready to confirm information about the crash AirAsia's aircraft, the ministry's Air Transport Director Djoko Murjatmodjo said Sunday. The ministry is currently verifying information claiming that the missing AirAsia aircraft has made an emergency landing in the eastern part of the Belitung island in the Java Sea.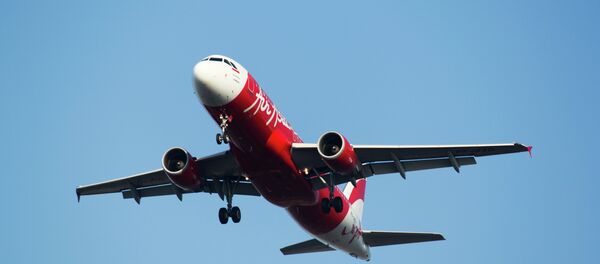 28 December 2014, 04:34 GMT
The AirAsia plane disappeared about two hours into a three-hour flight, BBC said. According to the statement issued by AirAsia, air traffic control lost contact with flight QZ8501 at 07:24 local time (00:24 GMT). There were 155 passengers on board, including 17 children, two pilots and five cabin crew. Most passengers on board were Indonesian; three passengers were South Koreans, and one French, Malaysian and Singaporean.
The plane was operated by an Indonesian captain, who had a substantial number of flying hours a total of 6,100, and a French co-pilot with a total of 2,275 flying hours, according to AP.
Very sad to hear that AirAsia Indonesia QZ8501 is missing. My thoughts are with the families. Malaysia stands ready to help.

— Mohd Najib Tun Razak (@NajibRazak) 28 декабря 2014
Search and rescue operations are underway under the guidance of The Indonesia of Civil Aviation Authority (CAA). AirAsia Indonesia is assisting the investigation.
At Surabaya airport, from where the plane took off, passengers' relatives sat, waiting in a room, many of them in tears and talking on their phones, AP said.
Flight QZ 8501 was operated by Airbus A320. Currently, there are 3,606 A320s in operation worldwide, AP said. The jet has a very good safety record, with just 0.14 accidents per a million takeoffs, according to a safety study conducted by Boeing earlier this year.
AirAsia Indonesia operates domestic flights within the Indonesian archipelago and international flights to Malaysia, Singapore, Australia and Thailand. The company is an affiliate of the Malaysian company AirAsia. In 2007, AirAsia Indonesia was banned from operating flights to the European Union (EU) due to safety concerns; however, the ban was lifted in July 2010, the BBC reports.
Reports in Indonesia that Australia is sending three RAAF P-3 Orion maritime surveillance aircraft to search for the missing #AirAsia plane

— Michael Bachelard (@mbachelard) 28 декабря 2014
Earlier this year, Malaysia Airlines flight MH370 disappeared during a flight from Kuala Lumpur to Beijing in March with all 239 passengers and crew on board. The plane's wreckage point has still not been located.