MOSCOW, December 28 (Sputnik) — An AirAsia aircraft has reportedly made an emergency landing due to technical problems during its flight from Penang to Langkawi (Malaysia) hours after another of the company's planes went missing.
@AirAsia flight AK6242 from Penang to Langkawi turns back due to technical difficulties

— New Straits Times (@NST_Online) 28 декабря 2014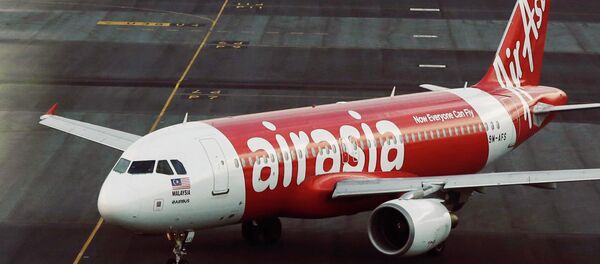 28 December 2014, 09:32 GMT
AirAsia's flight AK6242 en route from Penang to Langkawi has made an emergency landing due to technical problems, the Malaysian New Strait Times newspaper said on Twitter.
Earlier in the day, another AirAsia aircraft, flight QZ8501, en route from Surabaya, Indonesia to Singapore lost contact with air traffic control and went missing with 162 people on board.
I am touched by the massive show of support especially from my fellow airlines. This is my worse nightmare. But there is no stopping.

— Tony Fernandes (@tonyfernandes) 28 декабря 2014
Very sad to hear that AirAsia Indonesia QZ8501 is missing. My thoughts are with the families. Malaysia stands ready to help.

— Mohd Najib Tun Razak (@NajibRazak) 28 декабря 2014
Search and rescue operations are being conducted in the Java Sea by the Indonesian National Search and Rescue Agency (Basarnas), but no traces of the aircraft have been found so far.
Reports in Indonesia that Australia is sending three RAAF P-3 Orion maritime surveillance aircraft to search for the missing #AirAsia plane

— Michael Bachelard (@mbachelard) 28 декабря 2014
AirAsia issued a statement confirming the crash of the aircraft due to bad weather conditions. Nevertheless, the Indonesian Ministry of Transportation said it was too early to confirm this information.
AirAsia Indonesia operates domestic flights within the Indonesian archipelago and international flights to Malaysia, Singapore, Australia and Thailand. The company is an affiliate of the Malaysian company AirAsia. In 2007, AirAsia Indonesia was banned from operating flights to the European Union (EU) due to safety concerns; however, the ban was lifted in July 2010, the BBC reports.