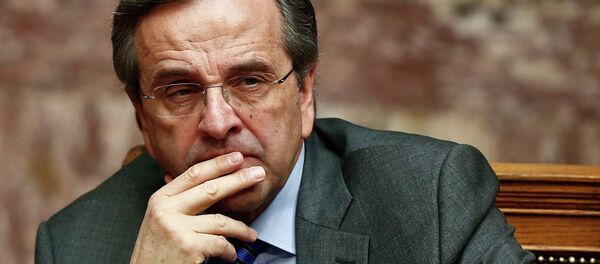 29 December 2014, 11:32 GMT
ATHENS, December 29 (RIA Novosti) – The Greek parliament is to be dissolved after failing to elect the country's president in a third round of voting Monday, and snap elections will be held.
The only candidate, former European Commissioner for the environment Stavros Dimas, garnered 168 votes, failing to secure the 180 needed. All 300 members of parliament participated in the voting.
On December 23, the Greek parliament failed to elect a president after a second round of voting, when one-third of parliamentarians abstained in the vote, and Stavros Dimas only gained 168 votes out of 200 needed. The main opposition party in the Greek parliament, Syriza, has not nominated a candidate as they are seeking new general elections.
In the current situation, incumbent Karolos Papoulias should sign a decree to dissolve the parliament in the next 10 days and set the date for snap elections that should take place between January 25 and February 8, 2015.
According to AFP, Greek Prime Minister Antonis Samaras will visit the president and request for snap parliamentary elections to be held on January 25.