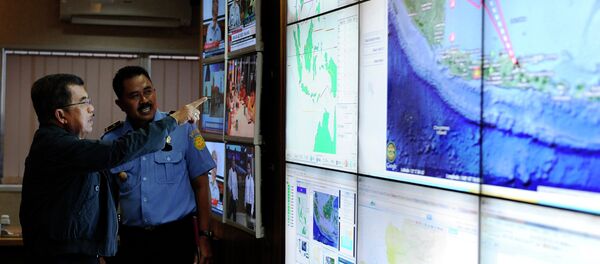 29 December 2014, 00:17 GMT
MOSCOW, December 29 (Sputnik) – AirAsia Indonesia welcomes international search efforts by teams from Indonesia, Malaysia and Singapore for its Airbus A320-200 passenger jet suspected to have crashed into the Java Sea on Sunday, the company said in a statement Monday.
"AirAsia Indonesia continue to support these efforts and has been actively cooperating with the search and rescue authorities," the statement reads.
According to the statement, search and rescue missions from Indonesia, Singapore and Malaysia have been mobilized to search for the missing plane. It was earlier reported that the rescue mission resumed Monday at 6:00 a.m. local time (Sunday 23:00 GMT).
Earlier the same day, the Russian Emergencies Ministry announced its readiness to provide Indonesia with "the most modern aircraft and rescue technology" and proposed sending its specialists to the search area.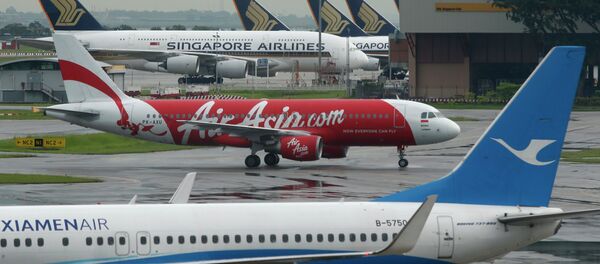 29 December 2014, 07:17 GMT
The passenger aircraft, en route from Surabaya, Indonesia to Singapore, lost contact with air traffic control on Sunday morning. The aircraft was carrying 155 passengers and seven crew members on board. Apart from three South Koreans, one French, one Malaysian and one Singaporean, all the passengers were Indonesians. On Sunday, the search operation for the plane had to be suspended due to bad weather conditions and darkness.
The Indonesian National Search and Rescue Agency said the jet encountered turbulence and requested for permission to change its course, but subsequently crashed into the sea. The Indonesian Transportation Ministry did not confirm the information.
AirAsia Indonesia operates domestic flights within the Indonesian archipelago and international flights to Malaysia, Singapore, Australia and Thailand. The company is an affiliate of the Malaysian company AirAsia.