WASHINGTON, December 30 (Sputnik) — Four more Russian nationals have been sanctioned by Washington under the Magnitsky Act, the US State Department said Monday.
The list has been extended to include two Chechen officials, namely Chechen Deputy Minister of Internal Affairs Apti Alaudinov, and Magomed Daudov, who heads the Chechen government, as well as the administration of the head of the Chechen Republic. The US authorities alleged that the two officials have been engaged in "kidnapping, torture and later framing" of Chechen rights activist Aleksandr Potayev.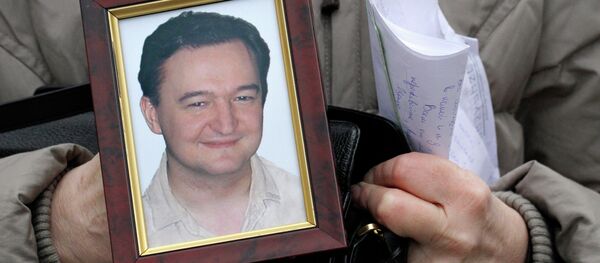 6 December 2014, 14:47 GMT
Another two individuals, Victor Grin, deputy prosecutor general of Russia and the Russian Investigating Committee investigating officer Andrei Strizhov, have been added to the list due to their role in arrests of opposition activists during the 2012 anti-government riots on Moscow's Bolotnaya Square.
According to a statement published on the State Department's website, the list has been extended to include "persons who have been determined, based on credible information, to meet the criteria described in the [Magnitsky] Act."
The 2012 Magnitsky Act calls for sanctioning Russian individuals allegedly complicit in the 2009 death of Russian lawyer Sergei Magnitsky in a Moscow jail, as well as other purported human rights abuses.
The criteria described in the act include "persons involved in the criminal conspiracy uncovered by Sergei Magnitsky, individuals responsible for Magnitsky's detention, abuse, or death," and also persons involved in cracking down on Russian whistleblowers and human rights activists.
The act has imposed visa and financial restrictions on the included individuals and currently lists 34 names.
Russia has responded to the Magnitsky Act by issuing its own blacklist, which includes US officials linked to human rights violations at the Guantanamo Bay detention camp in Cuba.