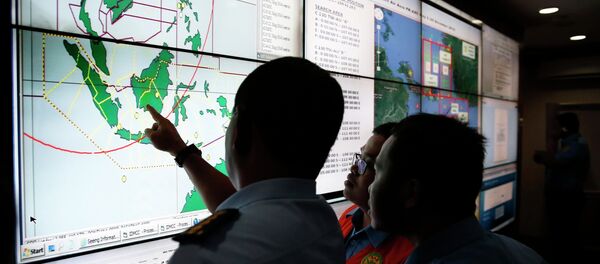 29 December 2014, 06:06 GMT
MOSCOW, December 30 (Sputnik) — The United States has sent a destroyer to the Java Sea in order to help the international search mission find the AirAsia Flight QZ8501, missing since Sunday, the US Pacific Command said in a statement.
"At the request of the Government of Indonesia and as directed by U.S. Pacific Command, U.S. Pacific Fleet has authorized U.S. 7th Fleet to position USS Sampson (DDG 102) in the general search area for missing Air Asia Flight QZ8501 to support search operations," the statement released on Monday said.
The USS Sampson is due to arrive at the scene later in the day, the statement added. The vessel is homeported in San Diego, California.
AirAsia's Flight QZ8501, flying from Surabaya, Indonesia, to Singapore, lost contact with air traffic control on Sunday morning. The Airbus A320-200 was carrying 155 passengers, mostly Indonesians, and seven crew members.
The missing plane did not transmit any distress signals before disappearing from radar screens above the Java Sea.