MOSCOW, December 30 (Sputnik) — Opposition blogger Alexei Navalny has broken the terms of house arrest and came to Manezhnaya Square in the center of Moscow to join crowds of his supporters.
According to the terms of his sentence, Alexei Navalny is not allowed to leave his residence.
"Despite the house arrest I want to be together with you today. So I'm also heading there," Alexei Navalny wrote via Twitter.
Shortly after arriving at the Manezhnaya Square Alexei Navalny was arrested by police officers.
"I was not able to reach Manezhnaya [square], but that does not mean you [other protesters] won't," Navalny wrote in his Twitter blog.
"I urge everyone to stay. They won't arrest all," he tweeted.
Earlier on Tuesday the Moscow court has handed down a suspended sentence of 3.5 years on embezzlement charges. His brother Oleg was sentenced to a prison term of 3.5 years and was immediately taken into custody.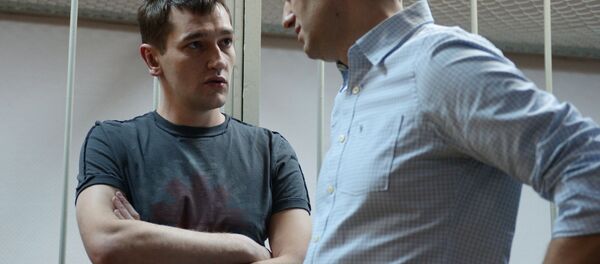 30 December 2014, 06:44 GMT
The sentences are substantially lower than the 10 years requested by the prosecution for Alexei and eight for Oleg, who was also fined 500,000 rubles ($9,000).
The brothers were fined an additional 4.4 million rubles ($77,500) in a civil case involving the Multifunctional Processing Company (MPC).
One of the lawyers representing the Navalny brothers told RIA Novosti they appealed the verdict, which the political activist denounced as a "disgrace," expressing bewilderment at his brother's detention.
Alexei Navalny, accused of embezzling more than 26 million rubles ($452,000) from Yves Rocher along with his brother Oleg, is currently serving a five-year suspended sentence for embezzling funds from timber company Kirovles worth 16 million rubles ($278,000).
Under the terms of his house arrest imposed in February, Alexei is forbidden from using any communication devices, sending and receiving mail, as well as seeing visitors.
Alexei, who finished second in the 2013 Moscow mayoral election, was a leading figure in the mass protests against Russian President Vladimir Putin in the winter of 2011-2012.