WASHINGTON, December 30 (Sputnik) – The Russian blogger Alexei Navalny and his brother verdict aims at preventing political activism in the country, US State Department spokesperson Jeff Rathke said during the daily press briefing on Tuesday.
"We are troubled by the guilty verdict handed down in the latest action against Aleksei and Oleg Navalny," Rathke said. "The decision is a disturbing development in our view, and it appears to be designed to further punish and deter political activism," he suggested.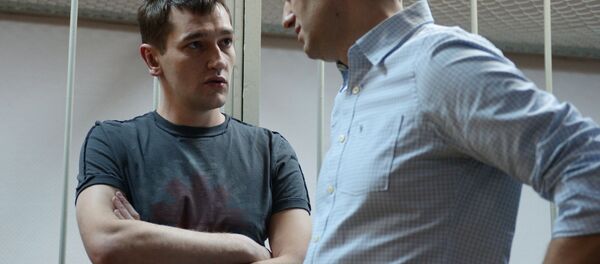 30 December 2014, 06:44 GMT
A Moscow court handed down a suspended sentence of 3.5 years to opposition blogger Alexei Navalny in a case involving embezzlement from the Yves Rocher cosmetics company. Alexei's brother Oleg was sentenced to a real prison term of 3.5 years and was immediately taken into custody.
"This appears to be another example of the Russian government's growing crackdown on independent voices," Rathke claimed.
The spokesperson added that the United States remains concerned about the alleged rise in restrictions on independent media, civil society, minority groups, and the political opposition in Russia.
The prosecution initially requested 10 years imprisonment for Alexei and eight for Oleg, who was also fined 500,000 rubles ($9,000). The brothers were fined an additional 4.4 million rubles ($77,500) in a civil case involving the Multifunctional Processing Company.