MOSCOW, December 31 (Sputnik) — Russia regrets that the UN Security Council has not adopted the resolution on the creation of an independent Palestinian state, Russia's UN envoy Vitaly Churkin said on Wednesday.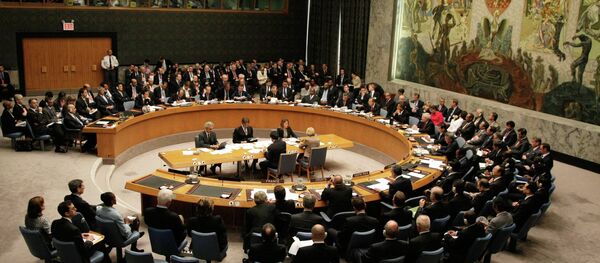 30 December 2014, 22:44 GMT
"The Russian Federation regrets that the UN Security Council has failed to adopt the draft resolution [on Palestinian statehood], which was supposed to support a universally recognized international legal framework of the Middle East settlement," Churkin said at a UN Security Council meeting.
Earlier in the day, the UN Security Council rejected the Palestinian statehood resolution, with eight nations, including Russia, supporting the document, the United States and Australia voting against it and five countries abstaining.
The UN regulations state that, in order to be adopted, a document must be supported by at least nine nations, with all five permanent representatives of the UN Security Council (China, France, Russia, the United States and the United Kingdom) unanimously voting "Yes".
The failed resolution stipulated the creation of a Palestinian state in the West Bank and East Jerusalem, occupied by Israel in 1967, with Tev Avia withdrawing all of its forces by the end of 2017.