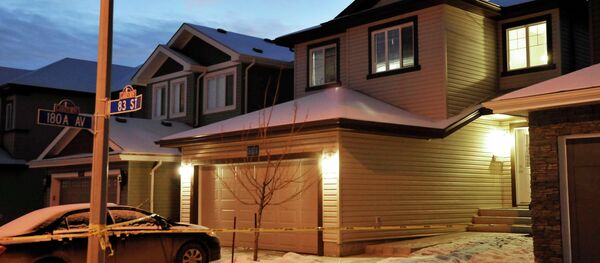 30 December 2014, 23:56 GMT
MOSCOW, January 1 (Sputnik) — Up to seven people have been wounded in a shooting at a New Year party in a private house in Calgary, Alberta province, Canadian CBC News reported Thursday citing local police.
"Up to 7 shot, 2 with life-threatening injuries in Calgary New Year's shooting," CBC News said on its official Twitter. On its website CBC said that the number of those shot is still unclear but it is believed to be between five and seven.
According to CBC News, local police started receiving calls about shots being fired at a private house party at 5:05 am local time (12:05 GMT) Thursday. The party was attended by about 50 people, 15 of them are currently being interviewed by police and officers are still looking for "multiple suspects" who have fled the scene.
Earlier this week an allegedly mentally ill man killed eight people, including two children and committed suicide in Canada's Alberta province.