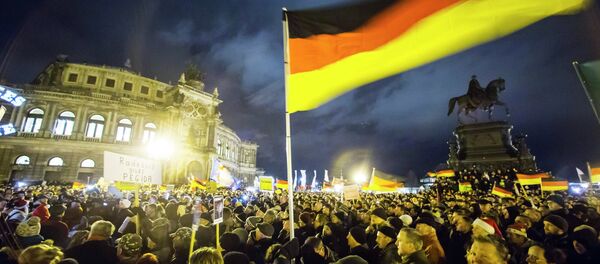 24 December 2014, 09:58 GMT
MOSCOW, January 2 (Sputnik) – A group of
refugees
, including those from
Syria
, have started a protest in northern Sweden, unhappy with the housing center they have been taken to, Swedish The Local reports.
"They were disappointed when they arrived here. It was cold and is not a big city. It is difficult for the police to do anything. We can't eject them from the bus — the matter must first be dealt with by the Enforcement Service," Bengt Stadin at Jämtland police said as quoted by The Local Thursday.
The asylum seekers that include at least one man from Syria were brought to a housing center in rural Grytan, south of Ostersund, but demanded that they be taken to Malmo or another large city, according to The Local. They refused to leave the bus when it brought them to Grytan. Police called to the scene declined to help escort the refugees from the bus.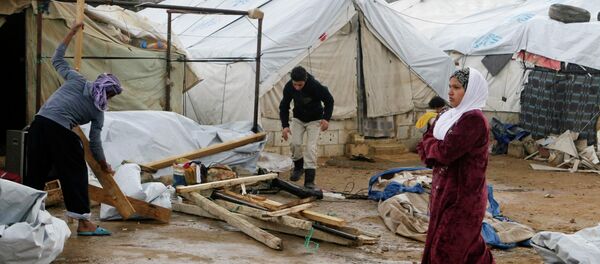 21 December 2014, 19:17 GMT
People seeking asylum in Sweden are not entitled to choose the location of their new residence, however, they are allowed to find their own accommodation through relatives or friends if they are not satisfied with the housing they are provided with, The Local reported, quoting a press officer from the country's Migration Board.
The press officer stressed that Sweden is unable to provide all refugees that are arriving in the country in great numbers with housing in a location they find favorable.
According to the Migration Board, around a dozen people decided to move into the accommodation in Grytan after all while another three arranged for their own housing.
The Local reports that about 40 of asylum seekers are still protesting and are blocking the bus so that it does not leave them in Grytan.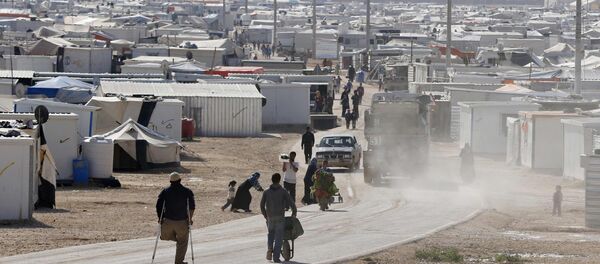 20 December 2014, 20:58 GMT
Sweden is one of the biggest host countries for Syrian refugees. It is also the biggest European host country for Syrians considering the size of its population, according to Mahmud Agha, editor-in-chief at Alkompis Media Group, which provides informational support to immigrants from the Middle East in Sweden.
Agha has told Sputnik that if a refugee has all the necessary documents, they can be granted asylum in Sweden in less than a month.
Once refugees arrive in Sweden, they go to a welcoming center where they spend several days, Agha explained. After that Swedish Immigration Services offer them accommodation in towns across Sweden. Refugees receive financial and medical assistance; they are offered social adaptation and language courses at no cost.
According to Agha, some 30,000 Syrians have come to Sweden since the beginning of unrest in Syria in March 2011, when peaceful protests in the Middle Eastern country turned into all-out fighting between government forces, rebels and jihadists.
The ongoing conflict in Syria has forced as many as 3.2 million Syrians to flee their homes, according to UN estimates.
Top Sources of Immigration to US and EU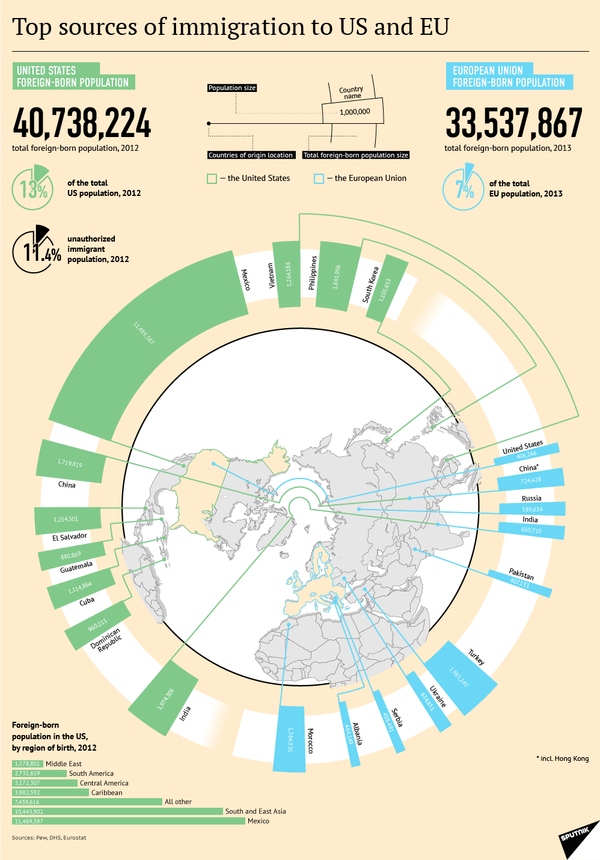 Top Sources of Immigration to US and EU