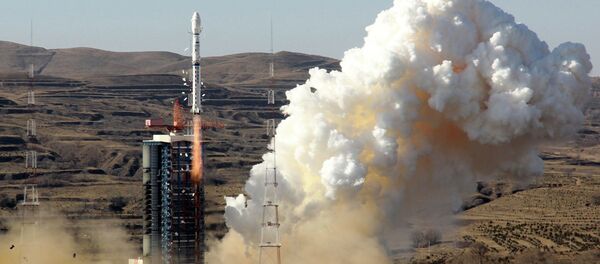 31 December 2014, 09:47 GMT
MOSCOW, January 3 (Sputnik) – A South Korean geological monitoring satellite is on course to come within close hazardous proximity with space debris, Yonhap reports.
The South Korean Ministry of Science, ICT and Future Planning specialists are preparing measures to avert a highly probable collision that could be fatal for the Science and Technology Satellite 3. They will try to change the spacecraft's altitude so that it will dodge the space junk.
US scientists were first to figure out the satellite's upcoming collision and raised the alarm, warning their South Korean colleagues on Friday, Arirang conveys.
21 November 2014, 14:44 GMT
On Sunday, the Science and Technology Satellite 3 will be just some 23 meters away from the dangerous debris above the Greenland Sea, Yonhap says citing space officials.
That orbiting garbage was left after a deactivated Russian communications satellite and an operating American commercial satellite bumped into each other in 2009.
The South Korean Science and Technology Satellite 3 was put into orbit in November 2013 and is programmed to revolve around the globe every 97 minutes and predict earthquakes and other geological activity from the height of 600 kilometers, Yonhap reminds.