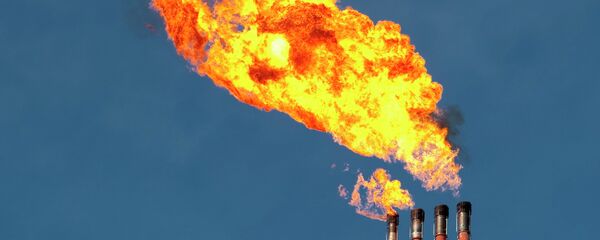 26 December 2014, 18:09 GMT
WASHINGTON, January 4 (Sputnik) — Over one hundred protesters braved the rain to gather at the White House on Saturday to participate in a Native American-led rally against the development of the
Keystone XL
(KXL) pipeline, which could potentially harm sacred American Indian land reservations.
"It's exciting to see people come out in the rain to support the protest. It shows grassroots support. We hope President Obama will eventually veto the Keystone bill, because it will damage Native American reservations and the environment," one of the protesters, Pete Rhodry, told Sputnik.
Rhodry held a sign that said "Protect Sacred Land" in one hand and an umbrella in another, as he marched in a circle formed around protest leaders who wore Indian headdresses and buckskin.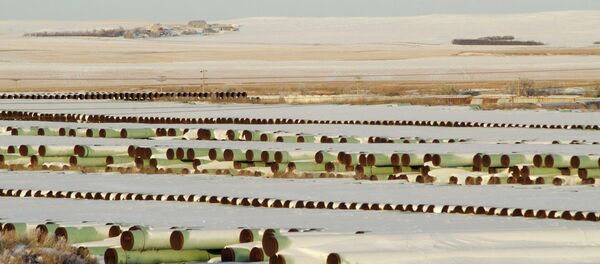 19 December 2014, 21:23 GMT
The Indian leaders banged on drums and chanted native expressions while activists silently trudged in the constant downpour with signs that said things like "Stop KXL Tar" and "TransCanada Kills."
The rally was organized by NO TO KXL, a diverse coalition of Native American leaders and environmentalists. The pipeline, according to a statement on the group's website, has "the potential to contaminate the nation's largest freshwater aquifer, and puts the lives of all people who live along its path in serious danger."
The pipeline would channel oil from the Canadian tar sands through the United States to refineries in Texas to be processed and then exported to other nations. Activists claim the plan threatens the environment through carbon emissions while offering little in return.
Given Republican gains during the mid-term elections, the US Senate will likely have the 60 votes needed to pass a bill approving the pipeline. However, President Barack Obama could veto the bill, which would take 67 votes to overcome.