MOSCOW, January 4 (Sputnik) – A record number of rhinos were mercilessly killed in South Africa during 2014, Reuters reported.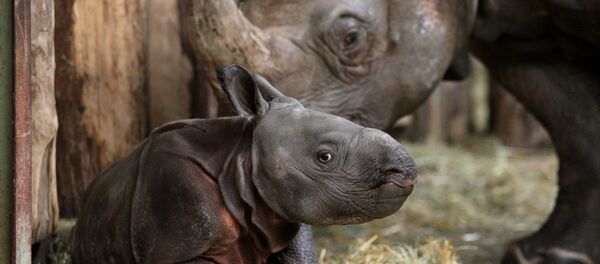 5 September 2014, 17:21 GMT
The big animals are poached for their horns that are in high demand. South Africa is at the center of the rhino crises, having lost 1,020 animals by mid-November of last year, topping the previous record of 1,004 from 2013. Over the last four years, the number of poached rhinos quadrupled, as there were 333 rhinos killed in 2010, according to Reuters.
Pelham Jones, chairman of the Private Rhino Owners Association, believes at least 1,171 rhinos had been killed in South Africa by mid-December 2014, meaning that at least three rhinos are killed every day in South Africa.
Jones predicted that the numbers will exceed the 1,200 mark in 2015.
South Africa is home to nearly 20,000 rhinos, or over 90 percent of the world's population of the animals.
Poaching has increased over recent years due to rising demand for rhino horns in China and Vietnam, where the horns are used in traditional medicine and ornaments, with prices reaching up to $65,000 per kilogram, making the rhino horns more valuable than gold. The number of killed rhinos increases in December, probably because poachers want to stock up with horns before the Chinese New Year in February, conservationists say, according to Reuters.