MOSCOW, January 5 (Sputnik) – A SpaceX rocket launch scheduled on Tuesday might become a seminal event for reusable rocket technology, the New York Times reported.
The Space Exploration Technologies Corporation, better known as SpaceX, will launch one of its Falcon 9 rockets from the Cape Canaveral Air Force Station in Florida at 6:20 a.m. Eastern Time (11:20 a.m. GMT) on Tuesday. However, it will not be an ordinary rocket launch, but an attempt to land the rocket upright on a platform in the Atlantic Ocean. If successful, this could become a new era in the rocket-building industry, the Business Insider said.
"Reusability is the critical breakthrough needed in rocketry to take things to the next level," said Elon Musk, the chief executive of SpaceX. Musk compared disposability of multimillion dollar rocket engines, which end up as trash in the ocean after rockets are launched, to throwing away a Boing 747 after one transcontinental flight, the New York Times said.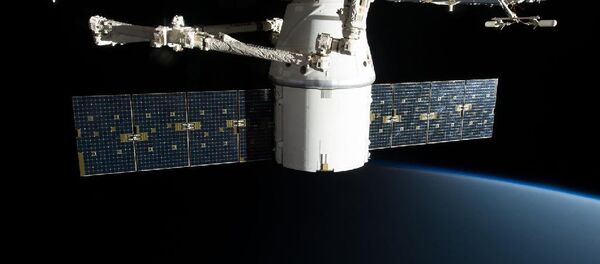 26 October 2014, 14:18 GMT
The company has tried to land rockets on the platform on three previous occasions, but all three attempts failed. During the second and third attempts, the rockets almost landed, but at the very end, things did not go as planned and the rockets fell into the ocean and exploded.
"We've been able to soft-land the rocket booster in the ocean twice so far. Unfortunately, it sort of sat there for several seconds, then tipped over and exploded. It's quite difficult to reuse at that point." – Musk said, as quoted by the New York Times. "What we need to do [this time] is to be able to land on a floating platform".
Musk added that the landing attempt on January 6 has about 50 percent chance to succeed. He remained positive, however, saying that SpaceX has more than a dozen flights scheduled throughout this year. Musk said a fully reusable rocket would cut launch costs to a "hundreds of what they are now", according to the New York Times.