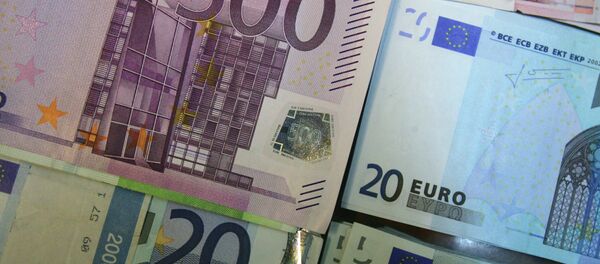 5 January 2015, 12:44 GMT
MOSCOW, January 7 (Sputnik) – the euro fell to its lowest value against the dollar in nine years on Tuesday, continuing its fall from a nine-year low on Monday.
According to official figures from the European Central Bank (ECB), the shared currency hit $1.1914 on Tuesday, following Monday's low of $1.1915. Data from Marketwatch.com put its value even lower, at $1.1876 at close on Tuesday. The figures represent the lowest value for the currency since November 2005, when it was priced at $1.1667, according to the ECB.
The drop comes ahead of the release of Eurozone statistics on Wednesday for December, which the BBC reports some analysts expect to signal a deflationary trend in the Eurozone as a whole. On Monday, the German Federal Statistical Office released its own inflation data for December, according to which the annualized rate fell to 0.2 percent last month, a drop from 0.6% for November and its lowest rate since October 2009.
According to the ECB's own figures, the annualized rate of inflation in the currency bloc for November was 0.3 percent, well below its declared target of 2 percent. The last time inflation in the Eurozone was above one percent was in September 2013; since then, the currency has continued to decline to well below the ECB's declared target of two percent.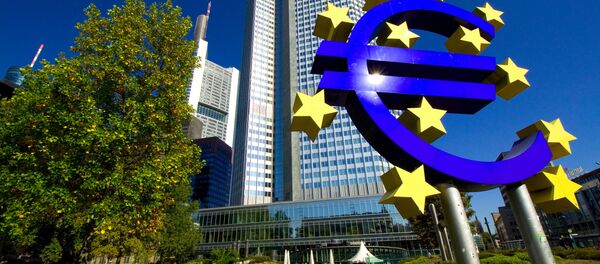 31 December 2014, 19:28 GMT
This proof of a slowdown has placed pressure on the ECB to engage in stimulative measures this month, the prospect of which has prompted investors to sell the euro amid anticipation of the central bank printing money. Speculation has mounted about such a move since last year, when EBC chief Mario Draghi first began to make noises about the possibility of initiating asset purchase programs in order to stimulate growth.
On January 2, Business Insider reported that Draghi, in an interview with the German newspaper Handelsblatt, said the ECB is "making technical preparations to alter the size, pace and composition of our measures in early 2015, should it become necessary to further address risks of a too-prolonged period of low inflation."
Guillaume Menuet, an analyst at Citibank, told Reuters that there is a likelihood the ECB would begin taking steps later this month: "We expect the ECB to announce a sovereign QE program on  January 22, and the first purchases to probably start in the following week," and added that "Investors would probably react very negatively to a 'no QE' announcement." The ECB is scheduled to hold its next monetary policy meeting on January 22.