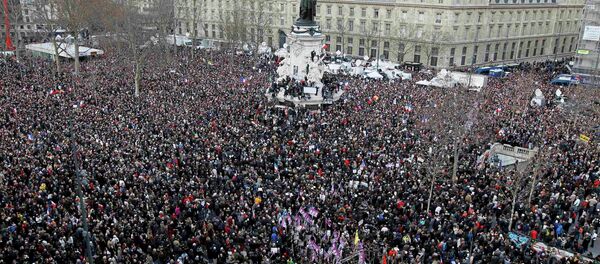 11 January 2015, 12:35 GMT
PARIS, January 11 (Sputnik) — Over 3 million people have gathered on the streets of France commemorating the victims of three consecutive terrorist attacks that struck the country last week, BMFTV channel reported Sunday.
Other media sources, however, suggested that the number exceeds 3.3 million.
Hundreds of thousands of people, including around 40 world leaders, have taken part in the Republican March in central Paris, while many others took to the streets of other French cities.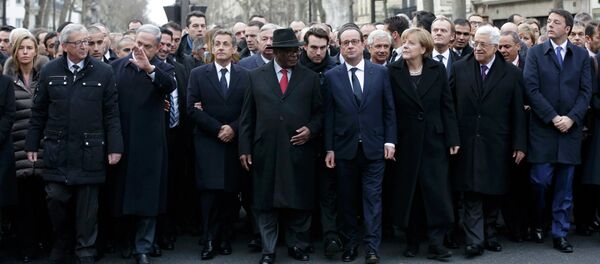 11 January 2015, 16:52 GMT
The rally was headed by some 40 heads of state and high-ranking politicians, including French President Francois Hollande, British Prime Minister David Cameron, Italian Prime Minister Matteo Renzi, German Chancellor Angela Merkel, Ukrainian President Petro Poroshenko, Israeli Prime Minister Benjamin Netanyahu and Palestinian Authority President Mahmoud Abbas. The Russian delegation was led by Foreign Minister Sergei Lavrov.
The politicians were met with applause and cheers from residents of the buildings along the march route. The top leaders were followed by the heads of France's various religious groups, as well as some local politicians. After a minute of silence in memory of the terrorist attacks' victims, Hollande thanked each of the leaders attending the march and met with the victims' families.
In the last event of such scale, back in 1998, over 1.5 million gathered in central Paris to celebrate the French national football team's World Cup victory.
In the past week, France has suffered three terror attacks, including one on the Charlie Hebdo satirical newspaper's office on Wednesday, the killing of a female police officer on Thursday, and the hostage-taking in a Paris kosher store on Friday. A total of 17 people have died in the attacks.