MOSCOW, January 12 (Sputnik) – US billionaire George Soros arrived to Kiev, reportedly, to meet with officials in the Verkhovna Rada, Ukrainian TV Channel 5 reports Monday.
Soros is staying in one of the five star hotels of Kiev. Details of his visit are not yet known, although the Chairman of Foreign Affairs Committee Hanna Hopko previously mentioned his upcoming meeting with Ukrainian officials.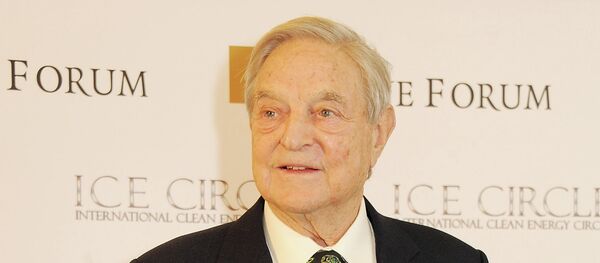 5 November 2014, 20:37 GMT
The billionaire has visited Kiev in the past. Last fall, he met with Ukrainian government officials and businessmen.
Last week, Soros urged the European Union (EU) to provide financial aid to Ukraine. According to him, if Ukraine receives $50 billion, the country would take a stand against Russia.
"We'll hope that [economic] problems in Russia and Ukraine's progress will persuade Vladimir Putin to stop trying to destabilize Ukraine," Soros said, as quoted by RBK.
Soros is an American business magnate, investor and philanthropist. In the past, he was repeatedly accused of helping to organize overthrows in several countries. Soros financed the first "Orange Revolution" in Ukraine back in 2004 and Euromaidan protests in late 2013. Soros does not deny these facts and says his money still plays an important role in the current events in Ukraine.