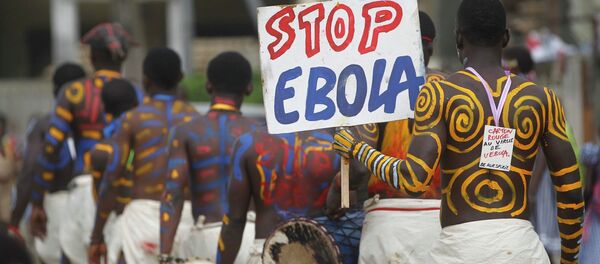 6 January 2015, 23:33 GMT
MOSCOW, January 12 (Sputnik) — Bats in the fig trees of the Kasanka National Park in northern Zambia have a high prevalence of Ebola anti-bodies and may hold a clue to a cure for the deadly virus, a professor at the University of Zambia told Bloomberg Monday.
About 10 million of the bats migrate from Congo to the Zambian park each year, to feed on the berries and figs found there, in what is the world's second-largest mammal migration, Aaron Mweene, professor at the University of Zambia's veterinary medicine school, was quoted as saying by the news outlet.
Referring to recent research conducted on the bats by scientists from Japan's Hokkaido University, Mweene added that the antibodies carried by the bats suggested that the mammals came into contact with the Ebola virus and were able to cure themselves.
Prior to this research on the bats in Zambia, Ebola antibodies in bats had been found only once before in the Ghanaian capital, Accra, in 2008, as reported by the news outlet.
However, a virologist at the UK University of Reading, Ben Neuman, said finding antibodies did not usually offer a solution to combating the virus itself.
"Antibodies can help, but antibodies aren't usually a solution by themselves for a virus," Neuman told Bloomberg, adding that the bats were well adapted to the virus which they have hosted for thousands of years.
The Ebola virus has killed over 8,000 people out of more than 20,000 probable, confirmed and suspected cases in Sierra Leone, Liberia and Guinea, where the outbreak began in December 2013. Reportedly, a two year old Guinean boy caught the virus from bats in a dead tree.
Meanwhile, trials of experimental treatments using antibodies from Ebola survivors began in Guinea in November.
© Sputnik
The Ebola Virus Disease - Everything You Need to Know

The Ebola Virus Disease - Everything You Need to Know