MOSCOW, January 15 (Sputnik) – No ammonia has been detected in the air of the US segment of the International Space Station after Wednesday's false alarm, Mission Control in Moscow told RIA Novosti on Thursday.
"A full analysis using gas analyzers and other technical equipment has confirmed that there is no ammonia in the air of the ISS," a source in the Mission Control in Moscow said.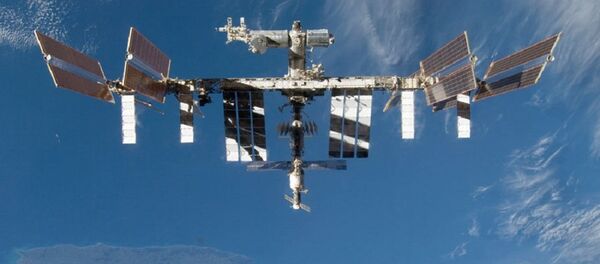 15 January 2015, 02:37 GMT
An ammonia leak warning in the US segment of the ISS on Wednesday forced two US astronauts and an Italian astronaut to the Russian segment. NASA later said indications of the leak were likely a false alarm caused by a computer error in one of the sensors. NASA said after the astronauts turned a relay box off and on the error message was cleared.
The astronauts forced into the Russian side were later allowed to return to the US segment.
The current ISS crew comprises six specialists from the United States, Russia and the European Union. It includes mission commander Barry Wilmore and flight engineer Terry Virts from NASA; flight engineers Elena Serova, Alexander Samokutyaev and Anton Shkaplerov from Roscosmos; and flight engineer Samantha Cristoforetti from the European Space Agency.