MOSCOW, January 15 (Sputnik) — Russia's Golden Globe winner, "Leviathan," directed by Andrei Zvyagintsev was nominated Thursday for the best foreign-language film Oscar.
Nominations for Hollywood's top honors in film was announced during a live-broadcast ceremony at the Dolby Theater in Los Angeles.
The Russian film will compete against Poland's "Ida," Estonia's "Tangerines," Mauritania's "Timbuktu" and Argentina's "Wild Tales."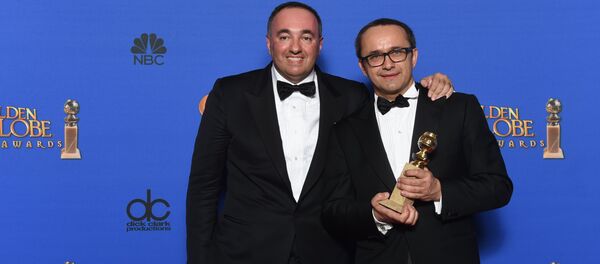 12 January 2015, 03:05 GMT
"Leviathan" has already won the best screenplay award at Cannes and Russia's first Golden Globe since 1969.
Earlier in January, the film was nominated for a British Academy of Film and Television Arts (BAFTA) award in the category of Best Film Not in the English Language in 2015.
"Leviathan" tells a story of a man, Nikolai, who opposes the corrupt mayor of a coastal town in Russia when he learns that his house will be pulled down. Nikolai turns to his old friend for help but this only brings more trouble for Nikolai and his family.