MOSCOW, January 15 (Sputnik) — The cap, introduced in September 2011, currently makes no sense, the Swiss National Bank, or SNB, said, according to the BBC.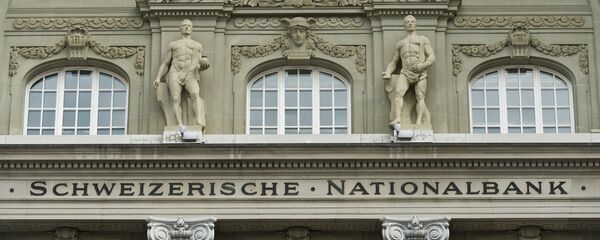 1 December 2014, 16:56 GMT
In September 2011, the SNB introduced the peg to respond to investors buying up the Swiss currency, which they touted as a much safer foreign exchange alternative to the euro or the dollar.
In a statement on Thursday, the SNB said that the franc was now out of the period of "exceptional overvaluation", which saw the minimum exchange rate introduced.
"The euro has depreciated considerably against the US dollar and this, in turn, has caused the Swiss franc to weaken against the US dollar. In these circumstances, the SNB concluded that enforcing and maintaining the minimum exchange rate for the Swiss franc against the euro was no longer justified. While the Swiss franc is still high, the overvaluation has decreased as a whole since the introduction of the minimum exchange rate," the statement said.
In a separate development, the SNB reduced its key interest rate from —0.25% to —0.75%, in a bid to increase the amount that investors have to pay to hold Swiss deposits.
"The SNB is lowering interest rates significantly to ensure that the discontinuation of the minimum exchange rate does not lead to an inappropriate tightening of monetary conditions," the bank said.
For his part, SNB Chairman Thomas Jordan touted the move to abandon the cap as a "well thought-out decision" rather than a "panic reaction." He also expressed hope that the value of the Swiss franc would to ease back to what he described as "more sustainable levels."
The SNB's decision to drop the cap immediately rode roughshod over European equity markets hard, with the Swiss benchmark stock index plummeting by more than 10 percent.
Following the SNB move, the Swiss franc went from 1.20 to the euro to 0.8052.
It later recovered in mid-morning trading at close to 1.05 euros.
Swiss shares fell by about 6% and stock markets around Europe fell with investors buying "safe haven" assets such as gold and German bonds.