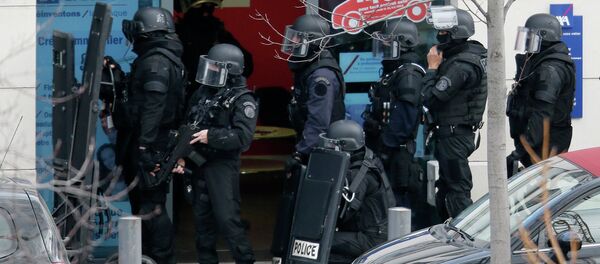 16 January 2015, 13:02 GMT
MOSCOW, January 16 (Sputnik) —Hostage crisis in Paris suburb of Colombes is over: armed man has surrendered to police, his hostages are free, according to French media.
It has been reported earlier that an armed assailant was keeping two hostages at the Colombes Paris suburb post office.
"The man is keeping two people hostage. French police are on location," French police spokesperson told Sputnik on Friday.
Earlier reports indicated that police surrounded the area, where the perpetrator is said to be armed with a Kalashnikov rifle and a number of grenades. According to various media reports, the gunman suffers from mental distress.
On January 7, the Paris office of Charlie Hebdo was attacked by terrorists, killing 12 people, 10 of whom were editorial staff, and injured another 11. On January 8, a French female police officer was shot dead in the Paris suburb of Montrouge. The following day, a gunman killed four hostages in a kosher supermarket.