MOSCOW, January 18 (Sputnik) — On the last day of his Asian tour, Pope Francis asked those present at a youth rally at a Church-run university in the Philippines to "learn how to cry" for children in need, Reuters reports.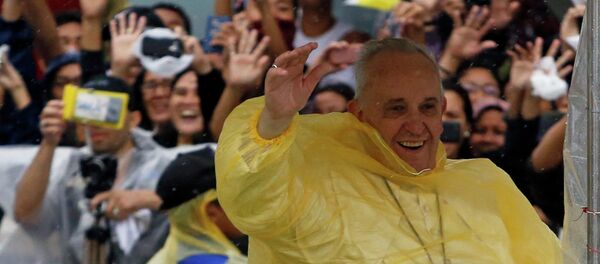 17 January 2015, 11:37 GMT
The pontiff had prepared a speech for the occasion, but he departed from the text to respond to a question, asked by 12-year-old Glyzelle Iris Palomar. "Many children are abandoned by their parents. Many of them became victims and bad things have happened to them, like drug addiction and prostitution," said Palomar, who was once homeless.
"Why does God allow this to happen, even if the children are not at fault? Why is it that only a few people help us?" she asked, as quoted by the news agency. The girl broke down in tears prompting the pontiff to hug her.
In a heartfelt response the Pope asked some 30,000 young people at the rally at Santo Tomas University in Manila, Philippines why children suffer. "When the heart is able to ask itself and weep, then we can understand something," he said, as quoted by the Vatican news service. "Today's world doesn't know how to cry," the pontiff stressed.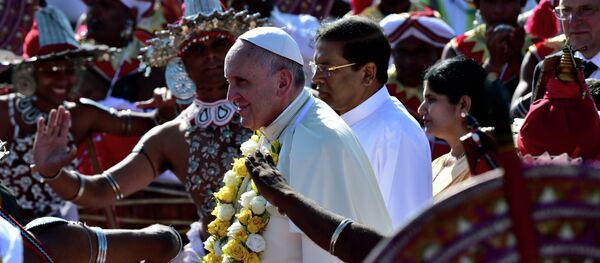 15 January 2015, 13:26 GMT
"I invite each one of you to ask yourselves, 'Have I learned how to weep, how to cry when I see a hungry child, a child on the street who uses drugs, a homeless child, an abandoned child, an abused child, a child that society uses as a slave'?" he said, as quoted by Reuters.
The pontiff also urged those present to care for the poor. "We are Christians.  We are members of God's family.  No matter how much or how little we have individually, each one of us is called to personally reach out and serve our brothers and sisters in need," the Pope said, as quoted by the Vatican news service.
"There is always someone near us who is in need, materially, emotionally, spiritually.  The greatest gift we can give to them is our friendship, our concern, our tenderness, our love for Jesus," he added.
We who are Christians, members of God's family, are called to go out to the needy and to serve them.

— Pope Francis (@Pontifex) 18 января 2015
Later on Sunday, the Pope will conduct a Mass in Manila, the capital of the Philippines. Approximately six million people of 80 million Catholics in the country are expected to attend.