MOSCOW, January 18 (Sputnik) – Forty-two percent of French nationals think that cartoons depicting the Prophet Mohammed, which Muslims find offensive, should not be published, AFP reports, citing a survey.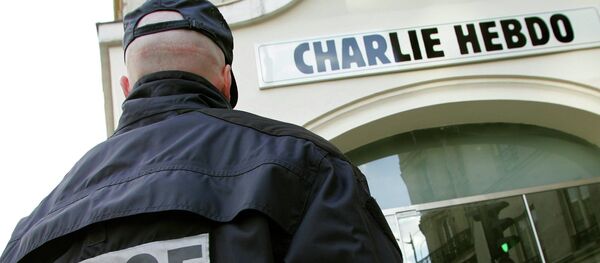 12 January 2015, 12:15 GMT
Fifty percent of respondents said they supported limitations on free speech online, including on social media, according to the Ifop poll, published in Le Journal du Dimanche. Nevertheless, 57 percent of those polled said that media outlets can publish cartoons even if Muslims are against it.
The Ifop survey was conducted after the brutal attack on the office of Charlie Hebdo, a satirical weekly, which published cartoons depicting the prophet. Said and Cherif Kouachi, the Islamist gunmen, who carried out the attack, said that was the reason for the assault.
Charlie Hebdo's decision to put a cartoon depicting Prophet Mohammed holding a "Je Suis Charlie" sign on the cover of its first issue since the January 7 attack, sparked outrage among Muslims.
Rallies protesting against the cartoons were held in the former French colonies of Niger, Mali, Senegal and Mauritania, as well as in Pakistan and Algeria. In Niger, ten people were killed during violent protests on Friday and Sunday.