MOSCOW, January 19 (Sputnik) – As many as 45 churches were set on fire in Niger's capital city of Niamey during weekend protests against the publishing of cartoons depicting Prophet Mohammed, AFP reports, citing local police.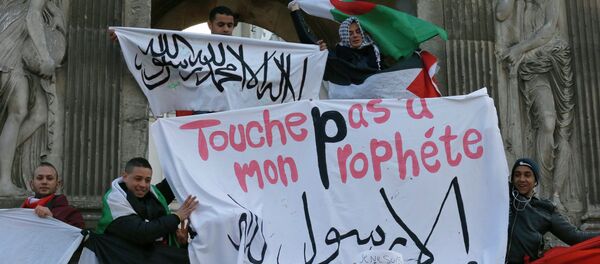 18 January 2015, 18:26 GMT
The protests were sparked by the decision of Charlie Hebdo, a French satirical weekly, to place a caricature image showing the prophet holding a "Je Suis Charlie" sign on the cover of its first issue since the January 7 attack, which claimed lives of 12 people.
At least ten people were killed in Niamey and Zinder, the second largest city in the country, on Friday and Saturday. More than 170 people were injured during violent protests.
A Christian school and an orphanage were also torched, AFP reported Adily Toro, a spokesman for Niger's national police, as saying.
Rallies protesting against the Charlie Hebdo cartoons were also held in the former French colonies of Mali, Senegal and Mauritania, as well as in Pakistan and Algeria.