MOSCOW, January 19 (Sputnik) — The bus shelling incident in Volnovakha could have been organized by the Security Service of Ukraine, hackers from CyberBerkut group claim, publishing compromised SBU documents on the official website of the network.
Hackers released letters and cryptograms of the Anti-Terrorist Center of the SBU, confirming that the attack could have been planned and carried out by SBU Office in Donetsk region. The documents also contained information about how Ukrainian security forces used the incident for political purposes.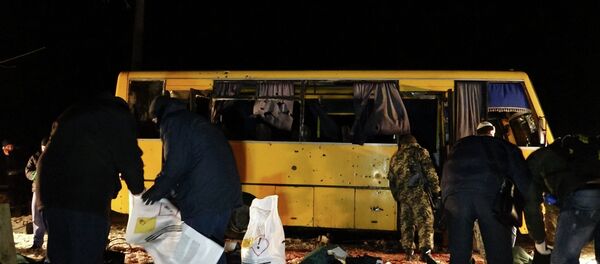 18 January 2015, 22:49 GMT
In a 'confidential' letter from January 13, SBU first deputy head Basil Gritsak instructed Gennady Kuznetsov, head of the center "A" of SBU Anti-Terrorist Center, to carry out a provocative campaign, aimed at laying the blame for civilian deaths on independence supporters in Donetsk and Lugansk People's Republic. Gritsak ordered "to plan and submit proposals for provocative actions, which would help to charge DNR and LNR militias with civilian deaths".
CyberBerkut also published a cryptogram, where employees of the SBU Office in Donetsk reported they had implemented "propaganda campaign to make the required informational impact on Ukraine's population". The cryptogram was sent from SBU Office in Donetsk region to Kiev and Kramatorsk. The network also released a list of media publications, accusing independence supporters of shelling the bus.
The passenger bus was shelled near Volnovakha south of the city of Donetsk on January 13. The incident left 10 people dead and 17 injured. Ukrainian President Petro Poroshenko accused independence supporters from the self-proclaimed Donetsk People's Republic (DPR) of the attack. The DPR denied its involvement and called Poroshenko's statement a provocation, explaining that DPR artillery was based too far away to reach the town or its neighborhoods.