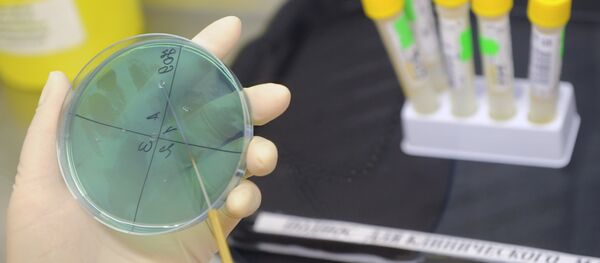 25 October 2014, 12:15 GMT
MOSCOW, January 20 (Sputnik) — Russian Anti-Doping Agency RUSADA said Tuesday it had rendered a decision to disqualify a number of athletes ineligible for competing in sports events in light of violations of anti-doping rules.
"The disqualification results from the use of prohibited substances or prohibited methods," the agency said in a statement.
The list of disqualified athletes includes Olympic champions in racewalking Sergei Kirdyapkin and Olga Kaniskina, as well as World Champion in racewalking Sergei Bakulin. They have been deemed ineligible for three years and two months.
Olympic Champion in racewalking Valery Borchin has been disqualified for eight years, while 2011 World silver medalist racewalker Vladimir Kanaykin has been disqualified for life, the agency said.
The Russian racewalking school is one of the best in the world, several prominent racewalkers originate from Russia, as well as many young athletes with world class potential.
Sergei Kirdyapkin won the 2012 Olympic gold medal in the 50 kilometers walk, and won the World Race Walking Cup the same year.
Thirty-year-old Olga Kaniskina won the gold medal in the 20 kilometers walk at the 2008 Beijing Olympics, and the silver medal at the 2012 London Olympics. Kaniskina also won three World Championships and one European Championship.
Sergei Bakulin, who specializes in 50 kilometer race walks, won gold at the 2011 World Championships in South Korea.
Twenty-eight-year-old Sergei Borchin won three major gold medals during his career, including two victories at the World Championships, and one – at the Olympic Games 2008.
Vladimir Kanaykin, whose career is now over, following RUSADA's decision, has become the silver medalist in the 2011 World Championship.