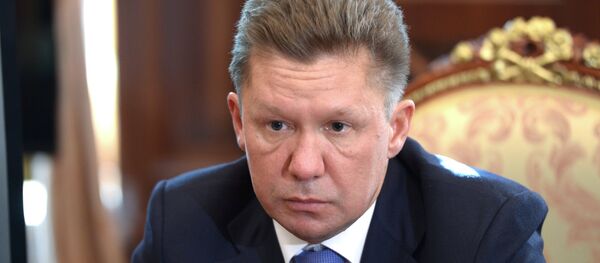 14 January 2015, 17:25 GMT
KIEV, January 21 (Sputnik) — The Stockholm arbitrage court must rule on Kiev's debt to Russian energy giant Gazprom, currently estimated at $2.5 billion, Ukrainian Prime Minister Arseniy Yatsenyuk said Wednesday.
"I would like to remind once again… regarding all these discussions on who owes to who: the Ukraine's suit, the Naftogaz of Ukraine's suit against Russian Gazprom is now in the Stockholm arbitration court, in which we request Gazprom to return $6 billion. The court will decide," Yatsenyuk said during the government session.
On Tuesday, Gazprom head Alexei Miller told Russian Prime Minister Dmitry Medvedev that current Naftogaz debt to Gazprom is estimated at $2.44 billion, adding that Gazprom sent Kiev a letter regarding this issue.
In June 2014, Gazprom switched Ukraine to a prepayment system for gas supplies over its massive gas debt. Following the move, Naftogaz turned to the Stockholm arbitration court requesting a review of its Gazprom contract with the intention of recovering some $6 billion in alleged over-payments. At the same time, Gazprom filed a lawsuit in the same court in an attempt to recover almost $5 billion in debt from Naftogaz.
In October, Moscow and Kiev signed the "winter package" agreement securing gas supplies to Ukraine until March 2015 and acknowledging Kiev's obligation to pay $3.1 billion covering part of its debt to Gazprom before the end of 2014.
Following the agreement, Gazprom resumed gas deliveries to Ukraine until March, but urged Kiev to pay the remainder of its debt.