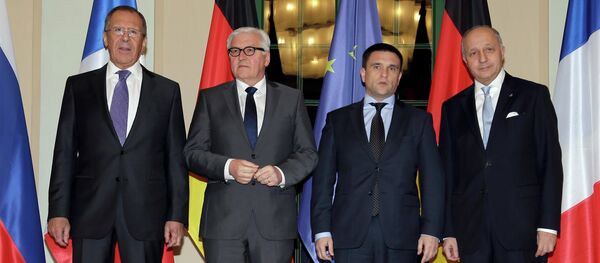 21 January 2015, 19:38 GMT
WASHINGTON, January 21 (Sputnik) — Washington can't confirm if Russia's two tactical battalions moved into Ukraine and does not have the number of regular Russian troops there, spokesperson for the US Department of State Jen Psaki said during the press briefing on Wednesday.
"I don't have any confirmation of the figures," Psaki stated, adding that she is familiar with Ukrainian President Petro Poroshenko's comments, accusing Russia of having 9000 troops on Ukrainian soil. "We've also seen reports that Russia moved two tactical battalions into Ukraine. I don't have additional information or independent confirmation of that."
Ukraine's National Security and Defense Council claimed Monday that two battalion tactical groups from the Russian Armed Forces have apparently crossed the Russian-Ukrainian border.

21 January 2015, 08:37 GMT
Psaki said that Russia continues to move tanks, armored vehicles, trucks, artillery pieces and other military equipment to deployment sites near the Russia-Ukraine border that serve as a staging point before transporting military equipment to independence supporters.
Russia has repeatedly denied accusations of involvement in the Ukrainian conflict and continues to urge the warring sides to establish a direct dialogue.
Russian Foreign Minister Sergei Lavrov stated Wednesday that Moscow is extremely concerned over the new outbreak of violence in eastern Ukraine.
Lavrov also announced that Poroshenko stated he is ready to discuss a plan for a peaceful settlement of the crisis in eastern Ukraine's Donbas region, proposed by Russian President Vladimir Putin and sent last week.
Clashes between Kiev forces and Donbas independence supporters intensified in the first weeks of 2015, despite a ceasefire agreement, reached during talks in Minsk, Belarus on September 5 and a «silence regime» introduced in the region on December 9.
The authorities of the Donetsk and Luhansk people's republics repeatedly stated that Kiev was using truce period to strengthen its forces and to prepare for a new offensive.
Last week, Ukrainian Prime Minister Arseniy Yatsenyuk urged the country's parliament to cancel the ceasefire, while Ukrainian President Petro Poroshenko's press service announced that Ukraine was regrouping its military and reinforcing units in «hot spots» in the country's east.
In a statement published Monday, the Russian Foreign Ministry called on parties involved in the Ukrainian conflict to immediately withdraw heavy artillery from the Donbas region and to fulfill other obligations they have under the Minsk agreements.