There are several colloquial definitions of "brine." To some, the word may evoke summers spent on the shore, catching fish in the brackish estuaries where fresh water meets the ocean. To others, brine is a substance spread on city roads to melt snow and ice. The term even has culinary associations. Meat can be soaked in salt water. Olive brine can be mixed into martinis.
But brine can also refer to a salty, toxic byproduct of oil and natural gas production which contains heavy amounts of sodium chloride, as well as petroleum and other residue left over from hydraulic drilling operations.
On January 6th, it was discovered that 3 million gallons of the stuff leaked from an Operator Summit Midstream Partners pipeline and into Blacktail Creek, near Williston, North Dakota, and from there flowed into the Little Muddy River.
"We tested 19 different spots in both Blacktail Creek and the Little Muddy," said Karl Rockeman of the State Health Department. "The tests do show definite water impact from saltwater brine at levels that would be considered toxic for aquatic organisms."
The brine is supposed to be removed from disposal wells and then pumped underground for storage.
"I guess they learned of it because guys were surprised they didn't have much saltwater to haul," said Fred Ryckman of the North Dakota Game and Fish Department.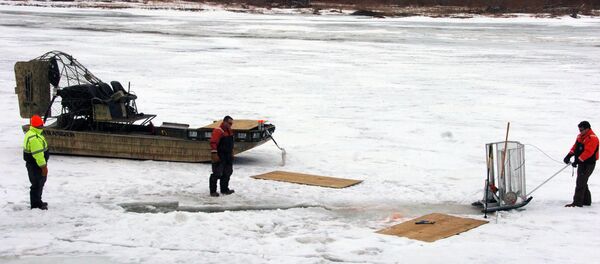 21 January 2015, 11:09 GMT
The full environmental impact is still unknown, and may not be clear for months. Similar spills have taken years to clean. State health officials also say they can't properly assess the damage until the winter snow melts.
"We know downstream the Health Department didn't see any living stuff at all," Ryckman said. "That stuff seeps down into the ground. It just goes everywhere. How many barrels was it? That's the million dollar question."
As of Wednesday, 65,000 barrels of water and brine have been taken out of Blacktail Creek as part of the cleanup effort. The entire creek bed will be drained, and the soil beneath tested for contamination.
The Little Muddy will be diluted since it is too large to drain. Parts of the Missouri River are also being tested for the pollutant.
Officials aren't sure what caused the leak, and they also don't know how long the toxins were spilling into the creek.
"Technology exists to prevent these spills and nothing is being done," said Wayde Schafer, a North Dakota spokesman for the Sierra Club. "Better pipelines, flow meters, cutoff switches, more inspectors – something has got to be done."
"Until we start holding companies fully accountable with penalties, I don't think we're going to change this whole situation we have in North Dakota," said Daryl Peterson, a local grain farmer.
While it may be the largest, this leak isn't the first. North Dakota has seen a large increase in oil and wastewater spills since the oil boom of 2006. A study conducted by ProPublica found that oil companies in the state reported over 1,000 accidental spills in 2011 alone. And that's just the ones that are reported. Many companies dispose of their toxins illegally. During a two year period, one company – Continental Resources Inc. – was responsible for spilling a combined total of 197,261 gallons of oil and brine, according to ProPublica.
A mere million-gallon spill in 2006 near Alexander, North Dakota, is still being cleaned nearly a decade later.
North Dakota is hardly a rarity. Earlier this week, traces of a cancer-causing agent were found in the Yellowstone River in Montana.
Summit Midstream is currently working to clean up their mess.
"The company does the work and cleanup," said Rockeman. "We make sure they do things properly."
While some degree of accountability may be comforting to state residents, they might prefer the spills were prevented in the first place. Though the state Legislature has repeatedly rejected proposals to mandate industry safety measures, so the toxins may continue to flow.