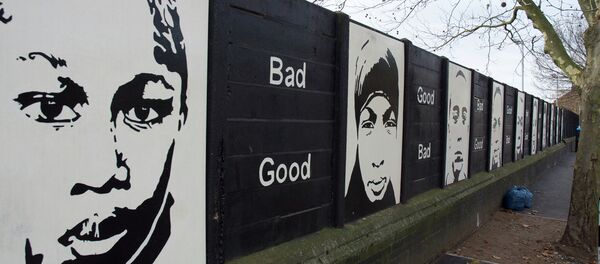 22 January 2015, 07:00 GMT
WASHINGTON, January 22 (Sputnik)
–
The United States still has and must solve its racial problems, including inequality, education and interaction with law enforcement, experts on race relations told Sputnik.
"Although we have made [a] tremendous amount of progress, the issue of race is remaining with us," Director of the Center for Civil Rights, Theodore Shaw, told Sputnik Wednesday. ''I think that the United States needs to make a commitment to addressing issues that impact African American or minority communities.''
According to a poll conducted by ICM Research exclusively for Sputnik News Agency, a majority of those surveyed say that racial and ethnic tensions are among the top problems faced today in US society. The survey also said that 67 percent of respondents agreed that issues of race and ethnicity create tensions within US society.
"I think that addressing inequality and education still remains one of the most important things that the nation can do. I recognize the progress that we have made, but I also recognize how far the United States [has] yet to go,'' Shaw said. He also noted that the US needs to change the way that law enforcement and black people, particularly black males, interact.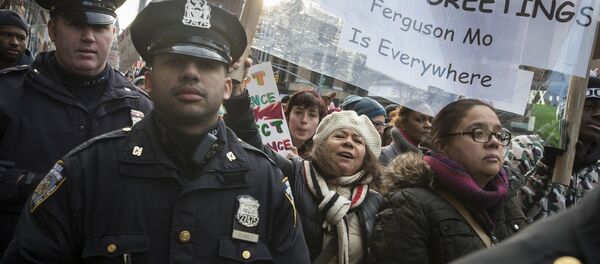 13 December 2014, 23:58 GMT
Shaw stressed that all ethnic minorities, as well as white Americans, need to "reassess the responsibility that all Americans have for working towards racial justice."
Although race relations in the United States have experienced a slight shift following US President Barack Obama's election into office, the country still needs to implement a clearer way to address the issue, Dr. Angelique K. Walker-Smith, spokesperson for Bread for the World, a Christian lobbying group, told Sputnik.
"We have now learned that we still have to be explicit and we have to be implicit around how we approach race relations, both are still the order of the day," Walker-Smith said, adding that America has to find ways of bringing the conversation about race relations "in terms of hands-on action."
She stressed that the black community played a strategic role in Obama being elected.
''There was this great hope that this would be a new way to approach race relations, that there was someone who was competent… that might give us a new hope of even a post-racial society,'' Walker-Smith said.
In 2014, cases of fatal shootings of unarmed black men from Missouri to New York by white police officers ignited a wave of protests across the United States on issues of racial inequality and police brutality.
What US Residents Think About Racial and Ethnic Tensions in American Society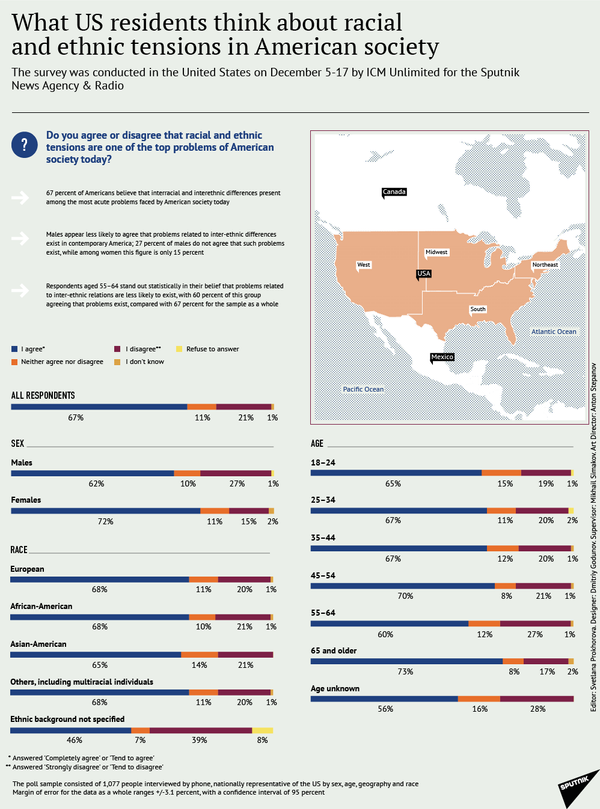 What US Residents Think About Racial and Ethnic Tensions in American Society