CAIRO, January 23 (Sputnik) – Yemeni Shiite Houthi rebels could create a Revolution Council following a statement of President Abd Rabbuh Mansur Hadi's resignation, a member of the political bureau of the insurgents told RIA Novosti.
According to Fadl Mutaa, following the president's resignation, the only thing left to do is "announce the creation of Revolution council of governing the country, which would include all political forces that signed an agreement on peace and cooperation" in September last year.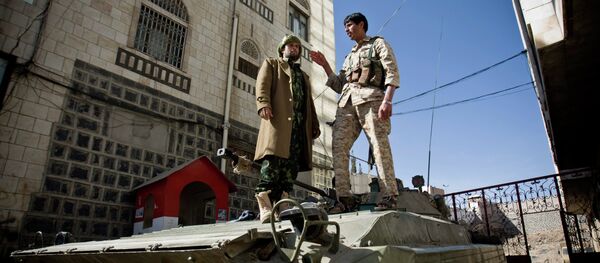 22 January 2015, 17:35 GMT
Mutaa believes that the decision regarding this issue will be made in the next few days, stating that the Houthis do not have an official position regarding it yet. According to Mutaa, it is possible that the head of Yemeni Parliament Yahya Rai could lead the country temporarily before the presidential elections take place.
The resignation of President Hadi came as a shock to Houthis. "This is a surprise, especially in light of the fact that the president gave his agreement to people's demands yesterday, and we, naturally, would want him to fulfill them. All of those resignations [presidential and governmental] indicate that they are not patriots of their country and do not defend its interests, especially in such a difficult situation," Mutaa told RIA Novosti Thursday.
The Yemeni president submitted his resignation earlier Thursday, apologizing to the people of his country. Hadi's resignation letter was submitted an hour after Yemeni resigned, following clashes with Houthi rebels.
The confrontations in Yemen kicked off Saturday, following the abduction of Hadi's chief of staff and two of his guards by the rebels. Clashes between Houthis and governmental forces have been reportedly happening since Monday in the country's capital Sanaa.