MOSCOW, January 23 (Sputnik) – The United States has admitted that an Australian man detained in Guantanamo for "material support for terrorism" is innocent, Reuters reported.
"We are hoping that the military commission will make a ruling within a month," Hicks' lawyer, Stephen Kenny, told the Sydney Morning Herald.
US civilian courts previously ruled that the crime he was charged with does not apply to actions committed before 2006, according to the BBC.
Captured in Afghanistan in December 2001, Hicks admitted to being trained in Taliban camps, but did not see evidence of terrorist activity, according to Reuters.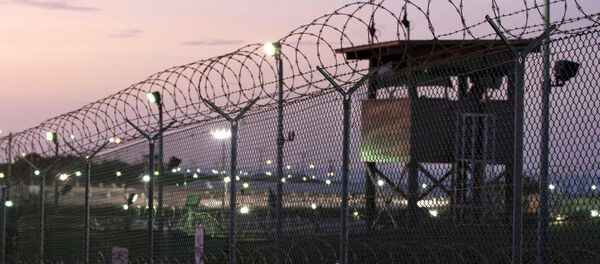 15 January 2015, 19:26 GMT
Detained at the Guantanamo Bay prison camp since January 2002, he agreed to a plea bargain in 2007, under which he would complete his prison term in Australia and never appeal the sentence, according to Australian ABC News. While at the camp, Hicks was beaten, sexually assaulted and sleep-deprived, while camp guards told him that he would be killed and never return to Australia, according to Reuters.
However, Hicks' lawyers say that his confession was made under duress, and that he was suicidal and desperate to leave the controversial prison, according to the BBC.
The Guantanamo Bay detention facility was opened in 2002 in the wake of 9/11 terror attacks on the United States. Since then, the prison has been repeatedly criticized by human rights advocates citing inhumane conditions of confinement, including torture.
In 2009, US President Barack Obama issued an executive order to review the status of all individuals imprisoned at the Guantanamo Bay Naval Base and to shut down the prison. The number of detainees has nearly been cut in half since 2009 but the facility is still open, with 122 detainees remaining imprisoned at Guantanamo.