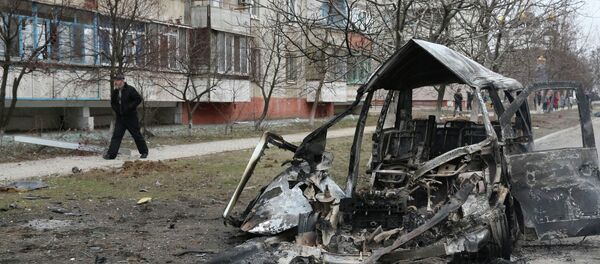 24 January 2015, 14:51 GMT
DONETSK, January 24 (Sputnik) – Kiev has passed the blame to the Donetsk People's Republic's (DPR) militia for the Grad missile attack on the southeastern Ukrainian city of Mariupol, DPR leader Alexander Zakharchenko said Saturday.
"Until this day, we have not been operating near Mariupol. We are saving our energy. But now, after Kiev decided to place the blame for its accidental Grad missile attack <…> on the residential area [of Mariupol] on us, I gave an order to suppress Ukrainian troops' positions located to the east of Mariupol," Zakharchenko said, adding that no one was planning to storm the city.
According to the DPR leader, Kiev has gathered its forces near Mariupol over the past few days, with militia's positions being constantly attacked with Grad missiles and artillery.
"Today there also emerged armored vehicles of the 28th Ukrainian brigade. This has been done to make us bring our forces to Mariupol that are currently defending the Donetsk airport in order to weaken us and drive out of there," Zakharchenko said.
He noted that the citizens of Mariupol had nothing to fear, as the Donetsk militia were there.
Earlier on Saturday, Mariupol, a Kiev-controlled port city outside of the main conflict zone in the Donetsk Region, came under shelling. According to the local authorities' estimates, 30 people have been killed in the attack.
Kiev blamed the Donbas militia for the shelling, but the DPR denied its involvement and said that the attack came from Mariupol's western district of Stary Krym, where the Kiev forces are stationed.