TOKYO, January 25 (Sputnik) – A recently-released on-line video showing Japanese hostage Kenji Goto claiming that another hostage, Haruna Yukawa, had been beheaded by Islamic State (IS) extremists, demands the release of a suicide bomber.
An English voice-over informs of the death of Japanese hostage Yukawa and of a change in demands: instead of money, the terrorists now want the release of Sajida al-Rishawi, the wife of Ali Hussein al-Shamari, who participated in an attack on a wedding party at a hotel in Amman, the capital of Jordan, in 2005.
The attack, carried out by the al-Rishawi couple and two other suicide bombers killed 57 people. Sajida was the only one to survive, as her explosives failed to detonate.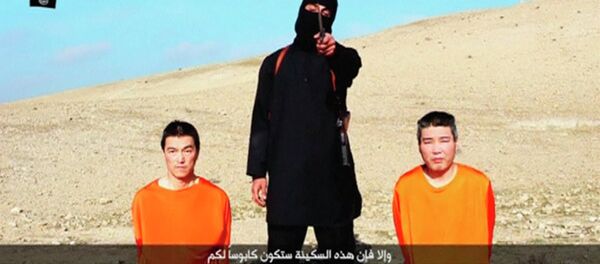 24 January 2015, 15:40 GMT
Sajida al-Rishawi is reportedly the sister of a former close aide of deceased al-Qaida leader Abu Musab al-Zarqawi.
Japan's Prime Minister Shinzo Abe has told NHK that the likelihood that the video featuring Goto was indeed real and made by IS militants is very high.
The Pentagon condemned the killing of Yukawa on Saturday, demanding that Goto and all remaining hostages be released immediately and pledging American support to Japan.
Earlier on Saturday, Japan's Chief Cabinet Secretary Yoshihide Suga demanded that IS release Goto.
IS-linked Twitter accounts distributed the video showing Goto holding a photograph of his beheaded fellow hostage, Haruna Yukawa, on Saturday.
In an earlier video, IS militants demanded a ransom of $200 million for the two Japanese hostages, which equals the amount pledged by the Japanese government to the countries conducting airstrikes against IS positions in Syria and Iraq.
Some 60 nations have joined the US-led anti-IS coalition, with a large number of them participating in the strikes against IS, a radical Sunni group also known as the Islamic State of Iraq and Syria (ISIS) or the Islamic State of Iraq and the Levant (ISIL).
The extremists have become known for a number of atrocities, such as public crucifixions and beheadings of captured prisoners, including European journalists.